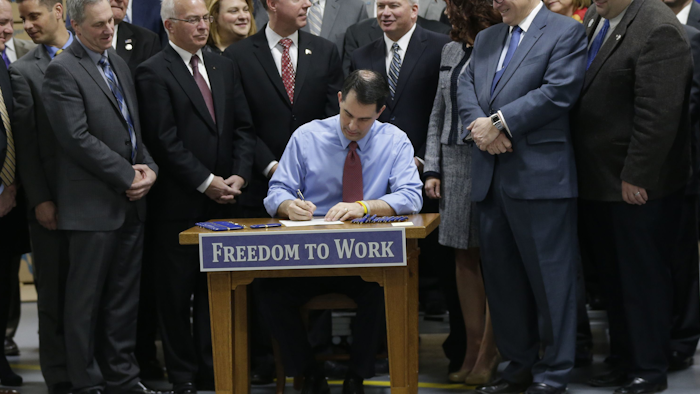 Wisconsin officially became the 25th "right-to-work" state after Gov. Scott Walker signed legislation Monday at a Milwaukee water meter manufacturer.

"This is one more big tool to help places like Badger Meter, when they can put jobs anywhere around the world, they can put them in Wisconsin," Walker said of the bill, which prohibits requiring union membership as a condition of employment and automatic collection of union dues.

Walker, who survived a recall election after curbing public employee unions in his first term, previously discouraged the Republican Legislature from taking up right-to-work and called the proposal a "distraction" from other priorities.

Republicans, however, indicated shortly after expanding their majorities in the 2014 elections that they would consider taking up the issue. Senate Republicans introduced the bill late last month and Walker, who's considering a bid for president in 2016, vowed to sign it.

The measure quickly moved through both chambers of the Legislature to Walker's desk by late last week.

Walker, echoing a common refrain from Republicans during debate on the bill, said the legislation addressed an issue of workplace freedom and would make Wisconsin more competitive economically.

Others, however, bluntly assessed its potential impact on organized labor in the state.

"What's been happening is we're reversing 50 years of Democratic control and the unions building on themselves," said Republican Senate Majority Leader Scott Fitzgerald.

Labor advocates harshly criticized the bill in recent weeks and suggested it would undermine unions and, ultimately, reduce wages in the state.

Phil Neuenfeldt, president of the Wisconsin AFL-CIO, said Walker's signing of the bill "continues his crusade on the hard-working, middle-class families of Wisconsin."