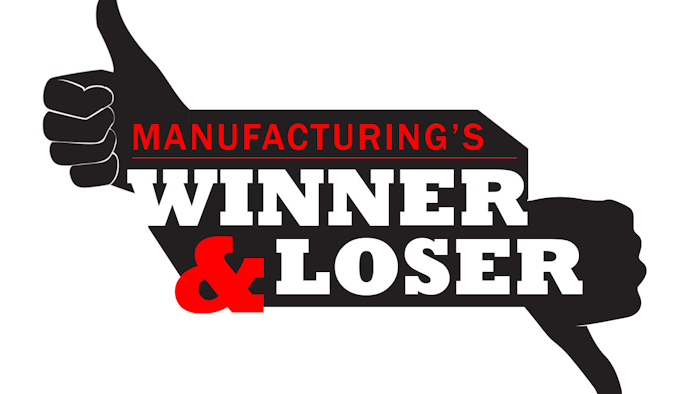 This week we have a winner who introduced a one-of-a-kind product, while the loser is being accused of knowingly not recalling products that would later result in consumer deaths.
Winner
Inspiration, the first self-driving semi-truck licensed to drive on public roads, was released by Daimler Trucks this week. "We are showing that we're at the cradle of innovation," explained Nevada Gov. Brian Sandoval.
The Inspiration has specifically been approved for Nevada highways and was unveiled on Tuesday night with an inaugural drive atop the Hoover Dam on the Nevada-Arizona border. Though there was driver on board, the company explained to witnesses that it is "a short drive for man and a long haul for mankind."
Daimler indicated that while the rigs will have the capacity to be fully automated, they will always have a driver present that will work as an on-board logistics manager, instead of a traditional truck driver.
To learn more about the Daimler's self-driving semi-truck check out the CNN video below:
Loser:
This past week the U.S. Food and Drug Administration released findings that don't reflect well on the Brenham-based Blue Bell Creameries. Blue Bell has been struggling with recalls of their products due to listeria contamination for the past month, however, after the news released today, I don't think anyone is going to feel sorry for them.
According to the U.S. Food and Drug Administration, Blue Bell had found strong evidence of listeria in its Oklahoma plant as early as 2013, but did not improve its sanitation and maintenance programs.
The study indicated that Blue Bell had test results that showed a high likelihood — or presumptive positive — for listeria on the floors, pallets used to carry and store ingredients and other non-food contact surfaces. But the company did not act.
In fact, the Associated Press reports that the FDA listed 17 separate positive test results for listeria on Blue Bell's equipment spanning from March 2013 through February 2015. The contamination is listed as a result of dirty equipment, improper food storage and employees not washing their hands properly.
As a response to the listeria concerns, Blue Bell has pulled all of its products from the shelves and has indicated that they will be upgrading their sanitation programs in their factories. But it seems to be a little too late. The company's products have been linked to three deaths in a Kansas hospital earlier in the year.