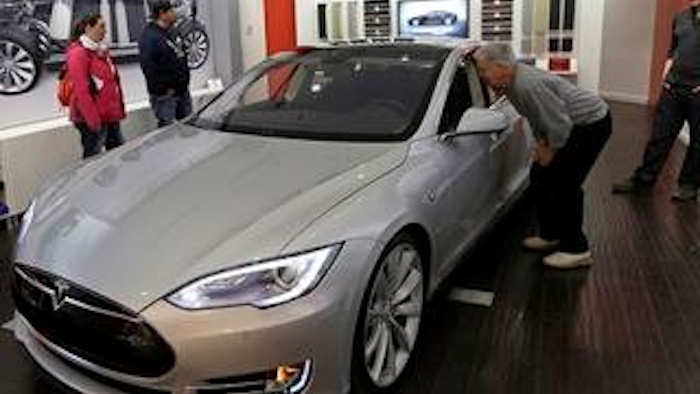 The closely watched annual list of top auto brands and individual vehicles was released this week indicating Consumer Reports' favorites among the 270 autos recently tested.
Japanese vehicles won six of the 10 categories, the smallest number in the 19-year history of the list.
The top picks in each of ten categories must score well in a road test; perform well in government and insurance industry crash tests; and have average or better predicted reliability based on problems reported by Consumer Reports' subscribers.
Here are the category winners:
BEST OVERALL: Tesla Model S
COMPACT CAR: Subaru Impreza
MIDSIZE CAR: Subaru Legacy
LARGE CAR: Chevrolet Impala
GREEN CAR: Toyota Prius
LUXURY CAR: Audi A6
SPORT SEDAN: Buick Regal
SMALL SUV: Subaru Forester
MIDSIZE SUV: Toyota Highlander
MINIVAN: Honda Odyssey
For the overall list, Buick is the first U.S.-based brand to crack the top 10 list. 
"For years domestic automakers built lower-priced and lower-quality alternatives to imports, but those days are behind us," said Jake Fisher, the magazine's director of automotive testing.
While that may be true, Detroit brands took four of the bottom six spots. Chrysler finished 23rd, followed by Ford, Dodge, Mini, Jeep and Fiat.
The Consumer Reports ranking, best to worst, with overall score:
•Lexus, 78
•Mazda, 75
•Toyota, 74
•Audi, 73
•Subaru, 73
•Porsche, 70
•Buick, 69
•Honda, 69
•Kia, 68
•BMW, 66
•Acura, 65
•Volvo, 65
•Hyundai, 64
•GMC, 61
•Volkswagen, 60
•Lincoln, 59
•Infiniti, 59
•Nissan, 59
•Chevrolet, 59
•Cadillac, 58
•Mercedes-Benz, 56
•Scion, 54
•Chrysler, 54
•Ford, 53
•Dodge, 52
•Mini, 46
•Jeep, 39
•Fiat, 32