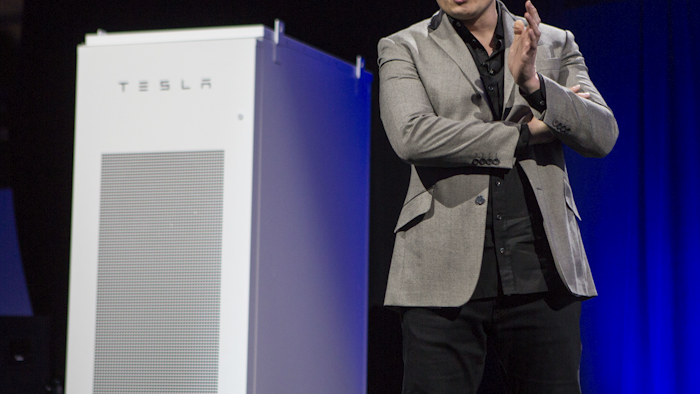 The company on the leading edge of electric car manufacturing this week officially entered the world of large-scale batteries for homes and businesses.

Tesla CEO Elon Musk announced the Tesla Energy division during a Thursday evening event at the company's Hawthorne, California design center. Beginning this summer, the segment will sell the Powerwall system for home energy use.

Powerwall is a rechargeable, Internet-connected lithium-ion system largely derived from the technology that powers Tesla cars. With a starting price of $3,000, the battery system is expected to cater to homeowners hoping to capture energy from solar energy systems for use when the sun isn't shining.

The Powerwall could, in addition, serve as a power backup for homes in the event of a utility outage, and could enable customers to leave the electrical grid entirely.

The technology could also create a consistent energy source in remote areas currently outside the reach of utility wires.

The company would initially partner with solar power system company SolarCity — chaired by Musk — to install the battery systems, with other companies joining the effort in the future.

Tesla Energy is also creating power systems for businesses and utilities.

The business application, Tesla said, would enable companies to maximize on-site clean power sources while buying cheaper electricity or potentially selling power back to providers.

The utility-scale system, meanwhile, would provide 100 kilowatt-hour battery packs to boost renewable sources, improve power delivery and defer infrastructure upgrades.

The company characterized the announcement as a critical step in moving away from fossil fuel-based electricity and toward an energy market with zero emissions.

"Our goal here is to fundamentally change the way the world uses energy," Musk said. "We're talking at the terawatt scale. The goal is complete transformation of the entire energy infrastructure of the world."
Tesla will begin producing the batteries at its facility in Fremont, California, but that work will transition to the $5 billion Tesla "gigafactory" in Nevada when it becomes operational next year.
Here's more on the announcement from Bloomberg Business: