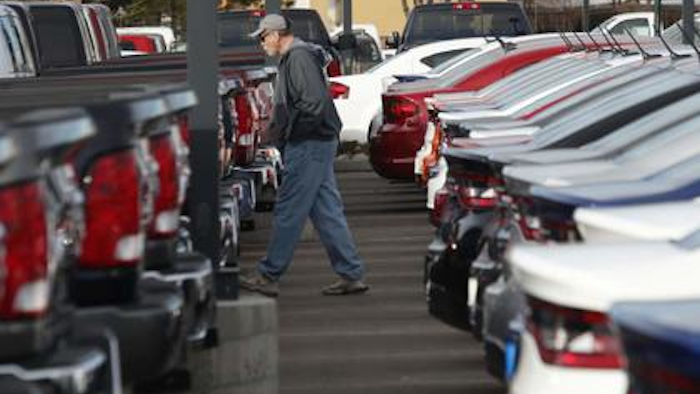 Detroit, Michigan — Automakers reported double-digit U.S. sales increases in January, a sign that car sales didn't spin out even with a major snowstorm hitting the Northeast.
General Motors led the way with an 18 percent gain over last January. Encouraged by low gas prices, buyers snapped up GM's big SUVs like the Chevrolet Tahoe and GMC Yukon.
Toyota's sales rose 16 percent, and the Japanese automaker reported record January sales of its trucks and SUVs. Ford and Nissan each posted 15 percent gains. Fiat Chrysler's sales rose 14 percent and Honda's sales were up 12 percent.
U.S. sales of new vehicles were expected to be strong in January, continuing the brisk pace of the last half of 2014. Kelley Blue Book predicted overall sales will rise 13 percent to 1.14 million vehicles, making this the best January in nine years.
All automakers except Tesla Motors report U.S. sales results on Tuesday.
January is typically a slow month for the auto industry. Buyers have less incentive to shop, since automakers offer fewer deals and promotions after the holidays and tax bills are looming. Bad weather can also keep customers away.
But this January was a big improvement over last year, when the polar vortex caused record-setting cold in much of the country. This year's Northeast blizzard had no real impact on sales, Ford's U.S. sales analyst Erich Merkle.
Gas prices continued to fall in January, hitting a six-year low of $2.03 per gallon on Jan. 26, according to AAA. That gave consumers the confidence to choose bigger vehicles.
Trucks, vans and SUVs were expected to account for 55 percent of sales to individual buyers in January, the highest percentage since 2004, according to the forecasting firm LMC Automotive. Sales of behemoths like the Cadillac Escalade and Lincoln Navigator more than doubled.
Pickup truck sales also correlate closely to home construction, and new home construction rose sharply in December.
While incentives fell 10 percent from December, to $2,642 per vehicle, they were still about 4 percent higher than last January, according to car shopping site TrueCar.com. That trend could continue; as the pace of growth slows, automakers may have to offer more deals to protect their market share.
Analysts expect U.S. sales to increase this year but at a slower pace than in recent years as sales approach 17 million, their highest level in a decade.
Stable home values, an abundance of credit and low interest rates are all fueling the demand, along with low gas prices.
"If those factors remain in place, new vehicle sales will continue to rise, though a big shift in one or more could quickly slow things down," says Karl Brauer, a senior analyst with Kelley Blue Book.
At GM, sales of the nine-passenger Chevrolet Suburban SUV more than doubled to 4,130, while Chevrolet Silverado pickup sales were up 25 percent. GM's sales totaled 202,786 for the month.
Ford saw a 17 percent gain for F-Series pickup trucks as the new aluminum-bodied F-150 hit dealer lots. Ford Explorer SUV sales were up 28 percent, helping Ford achieve total sales of 171,732.
At Toyota, Prius hybrid sales were flat, the victim of low gas prices. But Toyota saw a 19 percent gain in truck and SUV sales. Toyota sold 169,194 vehicles in January.
Fiat Chrysler's sales totaled 145,007 for the month. One of every three vehicles the company sold was a Jeep. The new Cherokee small SUV led the way with a 44 percent increase to 15,154.
Honda's car sales were flat, but its truck and SUV sales jumped 25 percent thanks to big gains for the CR-V crossover and the outgoing Pilot SUV. Honda's sales totaled 102,184.
Nissan's sales totaled 104,107. The Rogue and Murano crossovers both saw gains, along with the Altima midsize car, which was up 17 percent.
Volkswagen's sales were flat at 23,504. Higher sales of the new Golf small car couldn't make up for losses elsewhere.