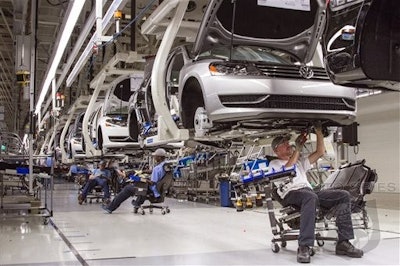 NASHVILLE, Tenn. (AP) -- Employees at the Volkswagen plant in Chattanooga, Tenn., are voting on whether they want to be represented by the United Auto Workers union. With a three-day election wrapping up Friday, here's a look at what's at stake:
ORGANIZING THE TRANSPLANTS: Volkswagen was the first foreign automaker to build a plant in the United States in 1976, and UAW got off to a promising start by gaining representation of workers there. But sluggish sales, quality problems and labor tension caused the German automaker to shutter the plant in southwestern Pennsylvania in 1988. The UAW has failed in its efforts to represent workers at more successful U.S. plants operated by the likes of Honda, Toyota, Nissan, Mercedes and BMW. Today, a Mitsubishi plant in Normal, Ill., is the only foreign automaker represented by the UAW, dating back to when it began as a joint venture with Chrysler in 1988.
UAW FUTURE: Bob King, the union's president, has said the UAW's long-term future is directly tied to whether it can organize plants outside of Detroit's Big Three. UAW membership peaked at 1.5 million in 1979, before the boom of foreign auto manufacturing concentrated in the South. The union's membership stood at 382,513 in 2012, a slight improvement over the lows experienced during the depths of auto industry bailout amid the Great Recession but far from the numbers it needs to thrive.
POLITICAL PUSHBACK: Republican politicians in the South have been vocal opponents of the UAW's organization drive at Volkswagen, fearing a union foothold there could expand to other plants and make the region less attractive to manufacturers. U.S. Sen. Bob Corker, a former Chattanooga mayor, has said Volkswagen would become a "laughingstock" for engaging in discussions with the UAW.
WORKS COUNCIL: Labor interests who make up half of the supervisory board at Volkswagen's headquarters in Wolfsburg, Germany, have questioned why the Chattanooga facility is alone among the company's major plants around the world without formal worker representation. The company wants to create a German-style "works council" in which both blue collar and salaried employees have a say over working conditions. But Volkswagen says U.S. law won't permit the creation of a works council without the involvement of an independent union.
VOLKSWAGEN EXPANSION: Volkswagen has announced that it will build a new midsized SUV for the U.S. market to try to resurrect flagging domestic sales, and that Chattanooga is competing with a Mexican plant to produce it. The company has stressed that cost considerations — and not the union vote — will decide where the SUV is built. But Republican state lawmakers added a twist to those considerations this week by warning that crucial state incentives to expand the plant could be at risk if the UAW wins the election.