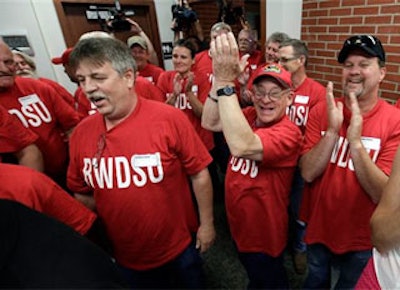 DES MOINES, Iowa (AP) — Workers at a Quaker Oats plant claimed their share of the largest lottery prize in Iowa history on Wednesday, sporting bright red T-shirts and traveling into town on a chartered bus before smiling for news cameras as confetti flew during a celebratory news conference.
Then, they demanded privacy.
After 18 of the 20 winners appeared at state lottery headquarters to claim the $241 million Powerball jackpot, they announced they would be going to court to seek an injunction to prohibit the release of their last names.
The Iowa Lottery on Wednesday verified the winning ticket, which was sold June 13. The group chose the lump-sum option worth $160.3 million, and each winner — 18 men and two women who all work in the shipping department of the plant — will receive roughly $5.6 million after taxes.
One of the workers bought the winning ticket for the group, and the winnings will be split 20 ways, said Dan Morris, a spokesman for the Retail Wholesale and Department Store Union that all the winners belong to in Cedar Rapids, Iowa.
In fact, they've formed a trust called the Shipping 20 and intend to seek an injunction to that effect, which is allowed under Iowa's Open Records law. It's believed to be the first time an Iowa lottery winner has chosen to take legal action to keep their names confidential.
The man who bought the ticket, who identified himself only as Al, said the lottery winners wanted to avoid having people knocking on their doors.
The lottery, along with Iowa attorney general Tom Miller, believes the winner's names should be made public. But the agency, which is working under the advice of Miller's office, has agreed to give the group 10 business days to seek an injunction.
"It is our position that they should be made public, and we're giving them what we believed is rights under the Iowa Code to have the chance to go to court and cite something different. But we don't need to go to court because we believe it is open," Iowa Lottery CEO Terry Rich said.
The impending legal fight didn't dampen the spirits of the winners, who took a chartered bus paid for by their union from Cedar Rapids to Des Moines on Wednesday to present their ticket to lottery officials.
The winners all are between 35 and 64 years old and work in the Quaker plant's shipping department. According to a release from the Iowa Lottery, at least 11 of them said they intend to retire immediately.
"Financial security for a lifetime," he said. "Anybody would want that," said Joe Day, the group's lawyer.
The winners don't yet have many specific plans for spending their jackpot outside of buying a few cars, but they said they're willing to fight for as long as it takes to keep their names out of the public record.
"They didn't want their last names known. That's their choice. This is still a free country — for a while anyway," Day said.