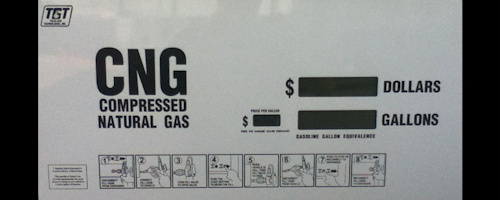 After just five years in operation — and repeated shutdowns. Vandalism and constant repairs — officials are discussing what to do with North Little Rock's city-operated compressed natural gas (CNG) station.
The station, which opened August 2011, was the only city-owned, publicly accessible CNG station, until Little Rock opened its own station in April 2014.
"It's not doing as well as we'd want," Mayor Joe Smith told city aldermen last week. "After the first of the year, there's a really good chance we'll have to make some big decisions to spend the money to update it, or mothball it."
The station, located near Interstate 30, cost more than $725,000 to build — $258,219 of which in city taxpayer money.  When the North Little Rock station opened, compressed natural gas had been popular as a less expensive fueling alternative, but with the price of gasoline and diesel fuel having dropped since, the price gap has significantly narrowed.
"With petroleum prices having gone down, there's not as much financial benefit to run CNG," city chief of staff Danny Bradley said.
Now, the city faces a difficult decision. Sell the station, or invest an estimated $250,000 in upgrades to keep it going.
"We struggle with it," Bradley told the Arkansas Democrat-Gazette. "It is in need of some fairly major overhaul."
Officials say a "design flaw" in the compressors cause problems — the city originally planned for a larger compressor that would be more efficient, however saved money by installing two smaller compressors instead. Other issues include the electric automation system that controls pressure, monitors and valves, and there is no onsite manager.
"It hasn't been reliable from the beginning," director of vehicle maintenance Kenny Brock said. "When the station was put in, the program that they have operating the automation was wrong, and the person who put it in could never fix it. I've spent a lot of time researching and reprogramming it."
Vandalism also plagues the station with people hitting the emergency stop which causes the station to be shut down. The station can't be turned back on remotely.
City officials have been in talks with at least one company about purchasing the station.
"We need some direction from the city council on whether they want to make an investment in the station or sell it," Bradley said. "I don't see the city council just voting to abandon it, but it's an option they can consider."