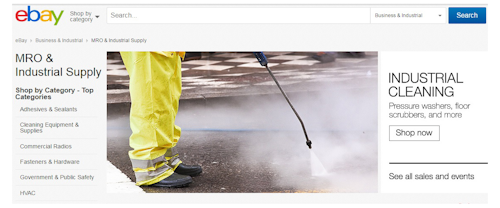 On Tuesday, eBay announced a major rebrand to its B2B offering, launching eBay Business Supply. The e-marketplace should be of great interest to industrial maintenance professionals and facility managers, as the new offering includes a broad range of MRO and general industrial products.
The company said the new offering brings its business & industrial category, SAP Ariba Spot Buy and EBay Wholesale Deals solutions all under the same umbrella.
The product offering on eBay Business Supply includes industrial subcategories under the areas of Construction and Metalworking & Manufacturing.
Construction has subsections that include: 
Metalworking & Manufacturing covers products of: 
Under MRO & Industrial Supplies, eBay's offerings include:
Adhesives & Sealants
Cleaning Equipment & Supplies
Fasteners & Hardware
HVAC
Hydraulics & Pneumatics
Lighting & Lasers
Material Handling
Pumps & Plumbing
Safety & Security
and others

The e-marketplace also includes products in Healthcare, Office, Lab & Life Science, Restaurant & Catering and Retail.
eBay noted in a press release Tuesday that it can help companies navigate common B2B e-commerce headaches, highlighting broad selection, ease-of-use, buyer and seller protection and financing.
The announcement comes about 15 months after Amazon.com announced and launched its B2B marketplace, Amazon Business, which absorbed AmazonSupply. In early May, Amazon said that Amazon Business topped $1 billion in sales in its first 12 months and that customer purchases were growing at about 20 percent each month. It added that it sold more than 300,000 business-made purchases on the platform in its first year and that 30,000 different business sold products on it. Third-party sellers were responsible for more than half of all orders.