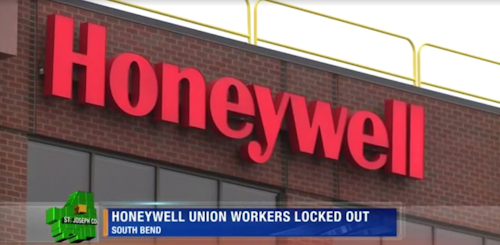 Honeywell locked union workers out of plants in Indiana and New York this week amid a continued dispute over new labor contracts.
United Auto Workers Local 9 in South Bend, IN, and UAW Local 1508 in Green Island, NY, each rejected contract offers from Honeywell late last week and were locked out beginning Monday morning.
Local 9 represents 317 hourly workers out of 775 in South Bend that manufacture brakes and wheels for commercial and military airplanes. The plant remains in operation with work performed by salaried employees or temporary contractors.
Local 1508, meanwhile, represents 42 workers at Green Island who make airplane steel brake linings.
The previous five-year contracts expired May 3.
Union members were primarily opposed to health care changes under Honeywell's latest contract offer and added that a proposed wage increase barely kept up with inflation.
The company, however, countered that the proposed health benefits would match other Honeywell employees in the U.S. and would enable the company to withstand a sluggish aviation industry.
"We remain optimistic that we can reach a new collective bargaining agreement that provides wage increases and comprehensive benefits to our employees, is consistent with the economic realities facing the industry and supports the site's long-term future," Honeywell said in a statement.
Officials from Local 9 in South Bend suggested that negotiations could resume next week, but in the interim, workers picketed outside both plants this week.
"This isn't going to work out for Honeywell," machinist Michael Hinchley told the South Bend Tribune on Tuesday. "That's why I'll persevere."