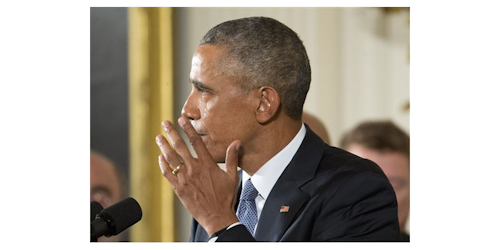 The Obama administration recently announced a series of measures to help equip guns with advanced technology to prevent unwanted users from firing them.
The White House in January issued executive orders designed to curb gun violence, including directing the departments of Defense, Justice and Homeland Security to develop a strategy for firearm safety research and development.
Those agencies released their report on so-called "smart guns" last week. The analysis said that much of the desired technology, such as using electronic signals or fingerprints to enable the use of firearms, already exists.
The Associated Press this week detailed a system developed by Florida-based iGun Technology Corp. that requires a ring to be within a short distance of the gun before it will fire.
The federal report conceded, however, that "the next step is more challenging."
"Manufacturers must now find ways to effectively integrate this technology into firearms without compromising the core functions of the device," the report said. "Gun owners ... expect their firearms to work seamlessly, under all conditions, without concern for technical malfunction."
The report established definitions for the technology, including requirements that would allow law enforcement agencies to purchase smart guns.
The administration also vowed to work with manufacturers to help develop new gun technologies -- and test them at an Army facility in Maryland.
"Together, these actions have the potential to jumpstart the development of proven gun safety technologies that can save lives and preserve the effectiveness of our firearms," wrote Valerie Jarrett, senior advisor to the president.
Critics, meanwhile, warned of the potential for governments to mandate advanced safety technology in all guns and raised concerns about the systems' reliability and cost.
"Reliability is everything ... If your iPhone doesn't work, you're inconvenienced. You're not dead," Larry Keane of the National Shooting Sports Foundation told the AP.
The administration, meanwhile, highlighted additional efforts to address gun violence, including a proposed rule to apply Social Security Administration records to the gun background check system.
Later this month, the White House will host state and local elected officials from around the country at a 50-State Gun Violence Prevention Convening.
"As I said in January, these commonsense steps are not going to prevent every tragedy, but what if they prevented even one?" President Obama said.