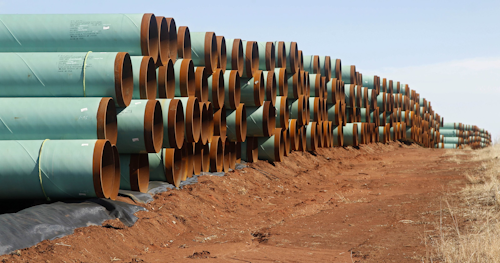 A small pipeline leak in southeastern South Dakota is reportedly responsible for a 16,800-gallon oil spill onto a nearby field.
TransCanada traced the spill to a leak on the Keystone pipeline near its Freeman Pump Station in Hutchinson County.
Officials with the Canadian energy company told the Associated Press that workers exposed more than 275 feet of pipeline to locate the leak, and that a cause has not been determined. The pipeline resumed oil shipments — albeit under reduced pressure — over the weekend.
Analysts told the AP that the U.S. oil market is currently oversupplied and would see a limited impact, if any, from the spill. Lighter Canadian crude was expected to replace the roughly 23 million gallons that pass through the pipeline each day.
The leak does not pose a threat to public safety or the environment.
The Keystone pipeline runs from Canadian oil deposits to refineries in Illinois and Oklahoma. TransCanada hoped to expand it to the Gulf Coast, but the Obama administration famously rejected the controversial Keystone XL project in November.