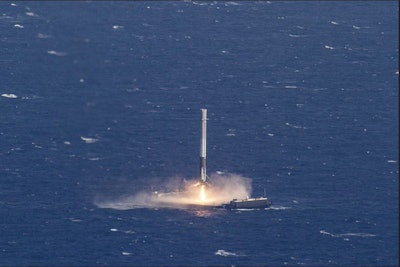 SpaceX made history on Friday when it became the first private spaceflight company to successfully land a reusable rocket booster on a remotely powered barge.
Friday's mission was to send a SpaceX Dragon cargo ship up on a resupply mission to the International Space Station where it would deliver an expandable, inflatable habitat among other necessary supplies.
This was the fifth attempt in 15 months by SpaceX to land one of its rockets on a drone ship. On previous occasions, the rocket reached the barge but was never able to stick the landing.
In another huge win for SpaceX CEO Elon Musk, on Sunday the Dragon capsule — stuffed with 7,000 pounds of freight — also arrived at the ISS, marking SpaceX's first successful delivery for NASA in 2016.
Landing used rockets safely on the ground is considered a crucial step in Musk's goal of getting humans to Mars, not to mention it would sharply reduce the costs of spaceflight.
Do you think SpaceX's successful reusable rocket landing on Friday could signal a major step forward in Musk's plan to get humans to Mars?
Comment below or tweet me @AbbDean.