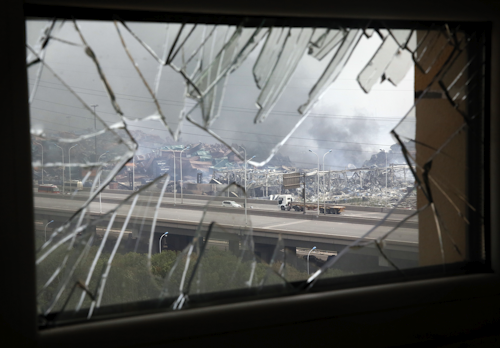 Chinese officials are in the process of relocating 10 chemical facilities in the aftermath of a massive industrial explosion last year.
The Associated Press reports that the plants in question were found to be too close to nearby residences. An August explosion at chemical warehouses in Tianjin killed 173 and damaged dozens of residences.
An investigation found problems at 85 of the 583 chemical firms in the Tianjin Binhai New Area. Local officials said that the remaining 75 facilities were not located too close to homes.
All of the area's chemical facilities, however, will eventually be isolated about 20 miles away — and six miles from residences — in the Nangang industrial zone.
State media previously indicated that two chemical plants were being moved to the tune of $4 billion in expenses.
Investigators this month attributed the August explosion at Ruihai International Logistics Co. warehouses to flammable nitrocellulose that caught fire and spread to large stores of ammonium nitrate fertilizer.
Authorities arrested dozens on charges related to the blast, including some company officials and local authorities accused of colluding to forego safety practices and illegally store hazardous chemicals.