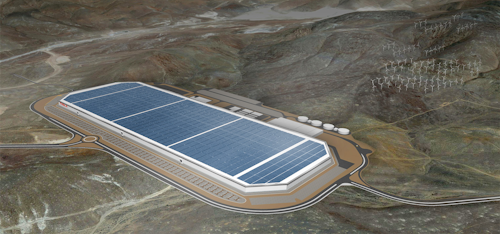 Tesla's massive Gigafactory project in the Nevada desert is making sufficient progress, according to state officials, but its hiring and spending are also behind initial projections.
The Nevada Governor's Office of Economic Development reported this week that Tesla and project partner Panasonic employed 272 workers and invested $375 million toward the factory as of the end of 2015.
The Associated Press reported that the company anticipated 700 workers and $1 billion in spending when Nevada lawmakers backed a tax incentive package for the electric vehicle manufacturer.
GOED officials, however, noted that the investment total increased by 57 percent compared to the third quarter of 2015.
"Based on the reported total investment and positive participant news, through Q4 2015 GOED has determined Tesla is making satisfactory progress towards meeting the investment requirements necessary to continue the support of the project," the report said.
Tesla is expected to receive $9.6 million in tax credits this month based on hiring and investment through mid-2015.
The Gigafactory, a 5.5-million-square-foot facility outside Reno, will make power storage systems and vehicle batteries -- an important component of Tesla's ambitious vehicle sales goals.
Tesla started a production line well ahead of schedule late last year and plans to begin producing battery cells this year. The Gigafactory is expected to reach full production in 2020.