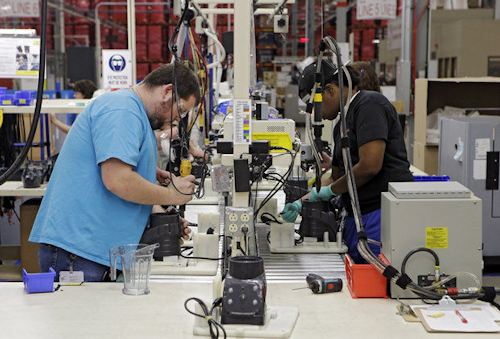 Reshoring moves by U.S. manufacturers were expected to decline significantly in 2015, according to a recent analysis.
Consulting firm A.T. Kearney anticipated 60 reshoring cases last year, compared to more than 200 cases in 2013 and 2014.
In addition, the firm's annual U.S. Reshoring Index — which contrasts manufactured goods imports and U.S. manufacturing output — fell to minus-115 in 2015.
In 2014, the index registered at minus-30; the annual decline is the largest in the past 10 years.
"The 2015 data confirms that offshoring seems only to be gathering steam, while the U.S. reshoring train that so many predicted has yet to leave the station," said A.T. Kearney's Patrick Van den Bossche.
Industry observers hoped that rapidly rising labor costs in China would diminish its cost advantages and prompt U.S. manufacturers to return home.
Instead, the A.T. Kearney report found that industries were relocating relatively seamlessly to other Asian nations. U.S. imports from Vietnam alone are expected to nearly triple between 2010 and 2015.
In addition, companies considering a return from Asia could establish operations in Mexico rather than in the U.S.
Both countries are among the nations hoping to join the proposed Trans-Pacific Partnership. The report suggested that the sweeping trade pact, along with other economic factors, could lead to further offshoring in 2016.
"The U.S. reshoring phenomenon, once viewed by many as the leading edge of a decisive shift in global manufacturing, may actually have been just a one-off aberration," Van den Bossche added.
Foreign manufacturers, meanwhile, were more likely than domestic companies to pursue investment in the U.S.