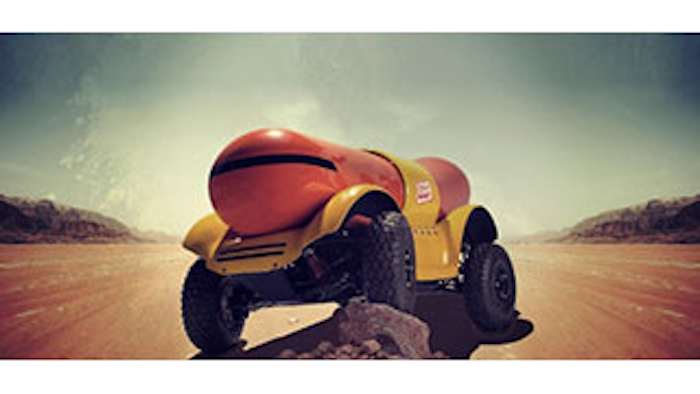 It's probably a good bet that all of us are familiar with Oscar Mayer's famous Wienermobile. After all, the wiener on wheels has been around since 1936 and is recognized as a bona fide slice of Americana.
What you might not know is that Oscar Mayer has added another vehicle to its fleet just in time for today's National Hot Dog Day: The Wiener Rover. According to Oscar Mayer, the Wiener Rover is "an all-terrain hot dog on heavy-duty wheels that will deliver hot dogs to fans across the country."
According to a news release from Oscar Mayer announcing the Wiener Rover:
Just in time for National Hot Dog Day, the Wiener Rover is a smaller, remote-controlled and battery-powered version of the iconic vehicle. Not only is the Wiener Rover able to go off-roading over grass, dirt and rocks, but it also delivers precious cargo of warm, ready-to-eat hot dogs to fans wherever they find it.

 

"We consistently hear that people are hungry for a hot dog after they see the Wienermobile, but we have never been able to offer them the deliciousness they desire," said Corey Rudd, senior associate brand manager at Oscar Mayer. "We developed the Wiener Rover to go where no Wienermobile has gone before to surprise and delight our loyal fans at their local parks, beaches, festivals and beyond."

 

About one-seventh the size of the original Wienermobile, the Wiener Rover comes in at 23 inches tall and 43 inches long (or about four hot dogs by eight hot dogs). The newest battery-powered hot dog on wheels maxes out at 20 mph. The hot dog compartment is able to hold up to eight hot dogs, plus condiments like Heinz Tomato Ketchup and Heinz Yellow Mustard.
The Wiener Rover made its debut in New York City today and the company says the new vehicle will be making visits to other cities in the future. Find out more about the Wiener Rover, and see it in action, by taking a look at the video below.