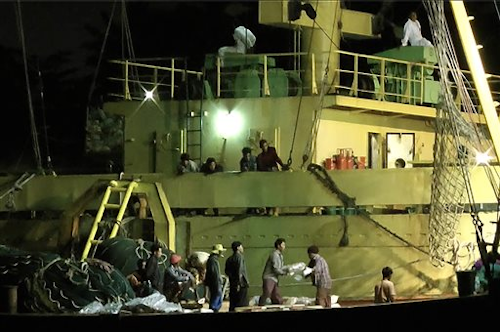 BANGKOK (AP) — Thailand's junta leader has vowed to take legal action against companies using forced labor, after an Associated Press investigation revealed that fish caught by enslaved migrant workers was being exported from Thai ports to global markets.
Speaking in an exclusive interview with the English-language Bangkok Post newspaper, Prime Minister Prayuth Chan-ocha acknowledged he had seen this week's AP article and said his government was stepping up efforts to combat the scourge and prosecute those responsible.
"If they still continue to exploit their fellow human beings, they should not be given any licenses to operate business in Thailand, and they must receive the punishment they deserve," Prayuth said.
The AP reported on Wednesday that men were held in cages along with hundreds of people who are trapped on the remote Indonesian island village of Benjina, and tracked seafood they caught to Thai exporters who then sell to global markets, including America.
The more than 40 men the AP interviewed on Benjina said captains on their fishing boats forced them to drink unclean water and work 20- to 22-hour shifts with no days off. Almost all said they were kicked, whipped with toxic stingray tails or otherwise beaten if they complained or tried to rest. They were paid little or nothing.
The investigation prompted the U.S. government and major business leaders to renew their calls on the Thai government to crack down on slavery in its fishing fleets, and to punish people who force migrant workers to catch seafood that can end up in the United States. Thailand's biggest seafood company, Thai Union Frozen Products, announced that it immediately cut ties with a supplier after determining it might be involved with forced labor and other abuses. Thai Union did not name the supplier.
Thailand, which has been under military rule since an army coup last year, says it is cleaning up the problem and has laid out a plan to address labor abuse, including new laws that mandate wages, sick leave and shifts of no more than 14 hours.
Prayuth's interview with the Bangkok Post contrasted sharply with comments he made to the media earlier this week, when he urged journalists not to report on human trafficking without considering how the news would affect the country's seafood industry and reputation abroad.
The Post quoted Prayuth as thanking members of the media for shedding light on the issue. "I know that every one of you wants to do your job to the best of your ability to help the victims. I think we are on the same team," he said.