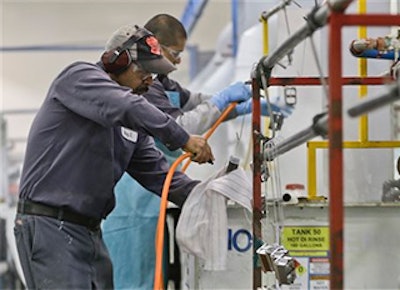 Although most mid-sized manufacturers still expect to grow their revenues this year and next, recent survey results reflect diminished expectations compared to recent years.

The latest Purchasing and Manufacturing Survey from Chicago manufacturer purchasing consortium Prime Advantage found that 80 percent of participating companies believe that they'll meet or exceed their 2014 revenue totals this year, while 83 percent expect to match or grow revenue in 2016.

The results for 2015, while high, are the lowest in the annual survey since 2010.

"That means that 20 percent aren't," said Prime Advantage vice president of marketing and new business relationships Mike McDonald. "And that's a big number since the last couple of years."

Read more: Supply chains built for growth.

McDonald characterized respondents' attitudes as "cautiously optimistic," and said that manufacturing remains growing — albeit at a comparatively slower rate.

He also said that the numbers aren't particularly surprising after six years of economic recovery. Softer demand is affecting survey participants, along with the strength of the dollar combined with weaker conditions abroad.

"For the first time in a handful of years, they're saying, 'Next year could be different,'" McDonald said.

More than a quarter of participating companies said that they were currently below their performance forecasts for 2015, but McDonald attributed those numbers to seasonal variations and other factors and predicted that most would "make up that ground by the end of the year."

In addition, the poll showed that while most companies planned to hire new employees this year, slightly fewer identified a talent shortage as a concern despite the tight U.S. labor market.

Although a lack of qualified workers was still the top concern identified in the poll, 46 percent of respondents cited it as a problem compared to 53 percent last year.

McDonald speculated that some companies had adjusted to accommodate current employment conditions, from conducting local training programs to retraining their current workers to investing in automation.

"I don't think that's a huge, seismic shift," McDonald said of the talent shortage concerns.

The online survey polled purchasing officials from Prime Advantage-member manufacturers in July 2015. Participants' annual revenues ranged from $10 million to $4 billion, with the majority between $20 million and $500 million.