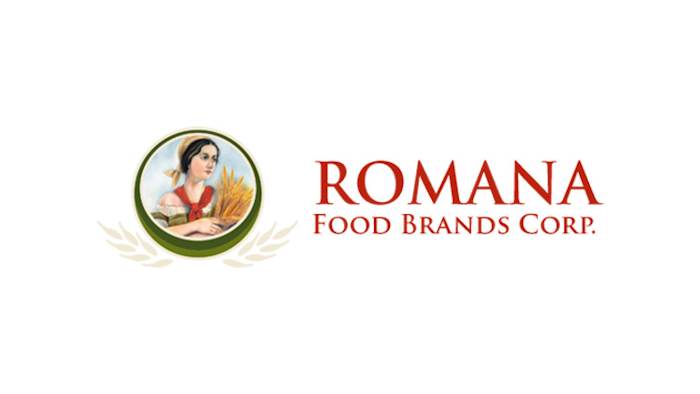 MONTRÉAL, Dec. 7, 2017 (PRNewswire) — Romana Food Brands Corp. is pleased to announce that following the acquisition of Pasta Romana, the Board of Directors have successfully concluded the acquisition of the Montreal based pizza manufacturer, a significant player in the industry, whose newly renovated facility will soon be equipped to produce in the range of 5,000 thin crust pizzas per hour and 5,000 rising crust or stuffed crust pizzas per hour.
Boasting 60,000 square feet of manufacturing space, the facility has significant potential for on site future expansion. "This is a very significant milestone in our strategy to become a leader in the industry. We anticipate, that between our plans to grow the Pizza Romana brand, and the potential represented by private labelling, these delicious premium pizza products will become fundamental in our strategy for growth." stated Morrie Fogelbaum, CEO and Chairman of the Board.
Pizza Romana currently produces pizza for Imvescor Restaurant Group Inc., under the "Mike's" private label, and has established distribution through Colabor, Costco, Loblaws, Metro, Regitan, Sobey's, and Walmart.
The Company recently announced that its Board of Directors has elected a new Chairman and CEO, who comes with well over four decades of experience to drive the Company to its next level. The Board of Directors, as part of its strategy to formulate, produce and market its authentic Italian "Pasta Romana" selections and privately branded products, will be diligently collaborating and working closely with Mr. Fogelbaum to realize the Company's short-term goal of increasing efficiencies and focusing corporate efforts on significantly increasing  consolidated sales within a relatively short period of time.
Romana Food Brands Corp. is committed to establishing itself as a leader in the thriving North American food manufacturing and processing industry.
According to Agriculture and Agri-Food Canada statistics, the food and beverage processing industry is the second largest manufacturing industry in Canada in terms of value of production with shipments worth $105.5 billion in 2014; it accounts for 17% of total manufacturing shipments and for 2% of the national Gross Domestic Product (GDP). It's the largest manufacturing employer and provides employment for 246,000 Canadians.