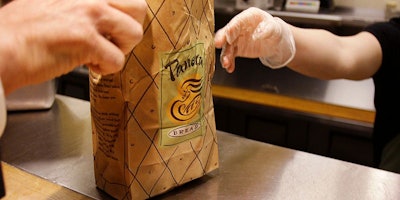 FRANKFURT, Germany (AP) — Its brands are some of the best known in the U.S.: names like Coty, Jimmy Choo, Krispy Kreme, Keurig Green Mountain, and now Panera Bread.
But the same can't be said of Luxembourg-based JAB Holdings Co. and the low-profile, wealthy family behind it. JAB's $7 billion acquisition of Panera Bread last week extends a four-year campaign during which the investment holding company has bought up companies and brands associated with coffee: Peet's Coffee & Tea, Caribou Coffee Co., Stumptown Coffee and Krispy Kreme Doughnuts.
Those holdings come on top of a 9 percent stake in Reckitt Benckiser Group PLC, a consumer health company which does business in most of the world's countries and sells brands including Calgon, Cillit Bang, Gaviscon and Air Wick.
The instant recognition factor in premium brands is part of JAB Holding's approach to investments, as the company puts it on its website. It describes itself as "a privately held group focused on long-term investments in companies with premium brands, attractive growth and strong margin dynamics."
Something in that formula appears to be working.
The Reimann family behind JAB has risen on Germany's annual rich list. The family was ranked second on the 2016 list issued by Manager Magazin with wealth estimated at 29 billion euros ($31 billion) — behind only Susanne Klatten and Stefan Quandt, siblings who inherited a large chunk of automaker BMW.
The Reimanns' business has its roots in the chemical business founded by Johann Adam Benckiser in Pforzheim in 1823. He was later joined by chemist Ludwig Reimann, who wound up owning the company.
In spite of the years of high-profile business, the Reimanns have kept a very low profile. When Bild, Germany's largest daily newspaper, published a list of rich Germans, the Reimanns went unillustrated. "There are no photographs of the publicity-shy family," Bild noted.
Panera CEO Ron Shaich doesn't consider JAB secretive.
"I think JAB is relatively humble and doesn't need to blow its own horn. Who they are speaks for itself," he said. Other investors, including BDT Capital Partners, joined JAB B.V., the company's investment vehicle, in investing in Panera.
"They are very much long-term growth investors, operating in a Warren Buffett model," Shaich said, pointing to the extensive corporate experience of JAB's managers.
JAB's public face is its three senior partners with extensive corporate experience and high-powered business educations: CEO Olivier Goudet, former CFO of Mars, chairman Bart Brecht, a former CEO of Reckitt Benckiser, and senior partner Peter Harf. Harf, a 1974 Harvard MBA and University of Cologne Ph.D. who joined JAB in 1981, served as board chairman of beer company Anheuser-Busch InBev from in 2002-2012.
One key part of JAB Holding's business is the Reckitt Benckiser stake. Moody's Investors Service described the stake as "a strongly performing asset, both from a cash flow and a market value perspective," that supports JAB Holding's credit rating.
Moody's said the Panera acquisition made strategic sense and fitted with JAB's investment policy of focusing on defensive and fast-moving consumer goods holdings — that is, businesses that tend to turn in steady profits and dividends, and which deal in consumer items that sell fast and in high volumes.
"Over the last 18-24 months JAB has visibly begun to transform itself from a company dependent on Reckitt Benckiser into a more balanced investment holding company with three key businesses," it said, highlighting its moves into the fields of beauty and fragrance, wholesale coffee and retail coffee.