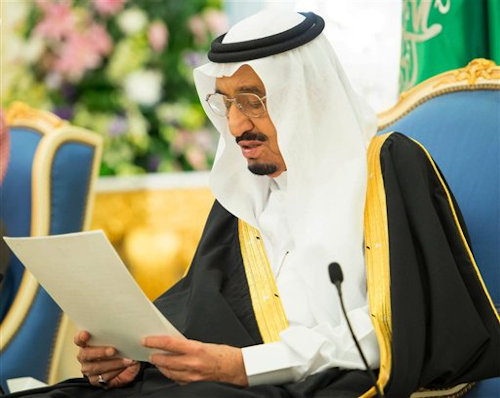 RIYADH, Saudi Arabia (AP) — Saudi King Salman vowed Tuesday that low oil prices would not halt progress in his country, and promised to defend Arab and Muslim causes around the world in his first major policy speech since assuming the throne.
Salman, 79, said the kingdom would continue oil and gas exploration, despite crude prices being nearly half of what they were last summer. In an acknowledgement of the kingdom's burgeoning young population, he urged businesses to help create jobs, calling it a national duty.
"Every citizen in the country and every region of our nation are of my concern, interest and care," he said, adding that all Saudis are equal before his eyes.
He promised improvements in education and health care, and to find solutions for affordable housing shortages.
Throughout the speech, he made it a point to address both men and women, referring to them as "brothers and sisters" and "my sons and daughters."
"Security is a blessing and a pillar for the prosperity of a society and its stability," Salman said. "Security is the responsibility of all and we will not permit anyone to tamper with it or our stability."
On foreign policy, he said the kingdom "would continue to defend Arab and Islamic issues" and the creation of a Palestinian state with Jerusalem as its capital.
Salman delivered the 10-minute speech from the al-Yamama palace in the capital, Riyadh. He was seated during the speech, reading from a paper underneath a large painting of his father, Saudi Arabia's founder King Abdulaziz. Next to him were his crown prince and deputy crown prince.
The invitees, mostly men, included governors, senior royals, Cabinet ministers, military leaders and senior clerics, including the influential grand mufti of Saudi Arabia. Women, who were appointed to the advisory Shura Council by his predecessor and late half-brother King Abdullah, were shown seated in the hall where he spoke, though segregated and behind the men who were invited.
Salman assumed the throne in January after Abdullah's death.