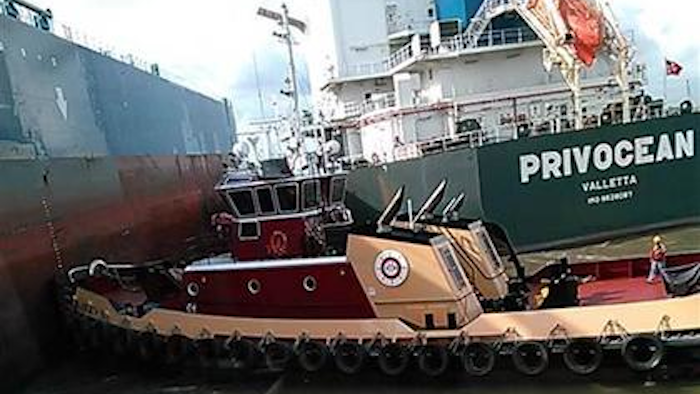 CONVENT, La. (AP) — About 420 gallons of oil spilled into the Mississippi River and a nine-mile stretch of the waterway was closed after a ship broke free of its mooring in southern Louisiana and hit two other vessels, the U.S. Coast Guard said.
The Privocean, a 751-foot bulk carrier, broke free near Convent around 4:00 p.m. Monday, drifted downriver and struck a 98-foot towing vessel, the Texas, according to a statement from the Coast Guard.
The Texas began taking on water but was able to ground itself on the river bank before sinking, according to Petty Officer Carlos Vega.
The Privocean continued to drift downriver and hit the 816-foot tank ship Bravo, which was discharging crude oil, the Coast Guard said.
Initial assessments show about 420 gallons of oil discharged into the river, which is closed from mile marker 163 to 154, according to the statement. Another 126 gallons spilled on the deck of the Bravo but was contained and will be cleaned up.
All three ships have been secured. The cause of the incident is under investigation, and Coast Guard response teams and an environmental services company are responding to the spill.
The crew of the Texas was taken to a hospital for evaluation but no injuries were reported, the statement said.
Convent is about 60 miles west of New Orleans.