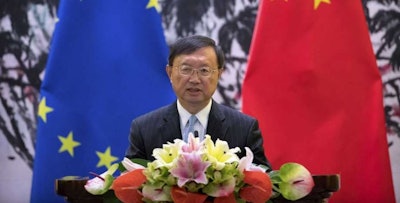 Top diplomats from China and the European Union pledged closer cooperation Wednesday, highlighting their common interests in peace and security and pushing a message of free trade and open engagement in contrast to fears that the U.S. is turning inward under President Donald Trump.
The statements came as China and the EU held their first high-level talks since Trump took office in January. EU foreign policy chief Federica Mogherini co-chaired the Seventh EU-China Strategic Dialogue with State Councilor Yang Jiechi, China's highest-ranking diplomat.
"At present, the international situation is complex with many new developments, challenges and problems," Yang told Mogherini at the outset.
"Against this backdrop, for China and the EU to deepen cooperation and coordinate positions not only concerns the common interests of the two sides, but also is of great significance for the development of international political and economic relations," he added.
Mogherini said China and the EU had "a big responsibility" during "times of uncertainty."
"We are looking forward to intensifying our cooperation on a positive agenda, what the EU and China can do together for the benefit not only of our citizens, but also of the world," Mogherini said.
The two sides discussed rising tensions on the Korean Peninsula as North Korea moves to accelerate its nuclear weapons development, and the war in Syria.
Mogherini told reporters afterward that ending the war in Syria is a priority, and she and Yang discussed at length how to actively support the U.N.-led process while working to improve the humanitarian access into the country.
The one-day talks come ahead of an EU-China summit scheduled for Brussels in June.
On Tuesday, Mogherini met with Chinese Premier Li Keqiang, who said that the international community was looking at how China and the EU would work together to tackle challenges including the world economic recovery, global conflicts and terrorism, and Britain's pending withdrawal from the EU.
Li said he was optimistic about the outcome of the talks based on "a stable China-EU relationship, with the consistency of our two sides toward multilateralism and free trade, and with our joint commitment to improving the international governance structure."
Unlike Trump, who was elected promising to tear up trade deals, impose new tariffs and bring jobs back to America, Chinese President Xi Jinping has cast his country as a champion of free trade and stability, and spoken out against protectionism.
Mogherini said that such speeches by Xi "have raised high expectations that China and the European Union can work together on multilateralism, on rules-based global order" and trade.
"Not only our people, but probably the multilateral system, need Europe and China to work together on some of the major global issues we are facing, from climate change to migration or counterterrorism, and also the many crises we have around us such as the tensions on the Korean Peninsula," Mogherini told Li at the start of their meeting.
Beijing and Brussels have disagreements on trade, however, including complaints by European and other foreign companies that they are blocked from acquiring Chinese assets while China's companies are buying major global brands. They also say they are barred from or sharply restricted in telecoms, information technology, finance and other promising industries in violation of Beijing's free-trading pledges.
Beijing, meanwhile, wants the EU to grant it market economy status, which would make it harder for the EU to impose punitive tariffs on Chinese imports that it deems to be unfairly cheap.
Other points of dispute include China's increasingly restrictive environment for civil society and internet censorship.
Mogherini's first meeting Wednesday, with Chinese Foreign Minister Wang Yi, was canceled. A foreign ministry official said the EU delegation had informed them that Mogherini was feeling unwell.
She will give a speech at Beijing's prestigious Tsinghua University on Thursday, and then travel to India and Russia.