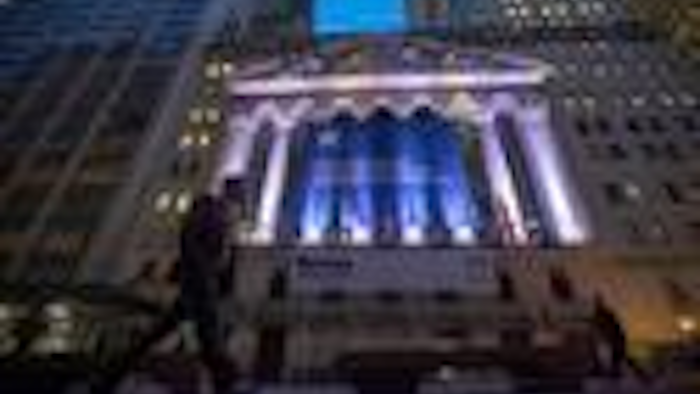 NEW YORK (AP) — U.S. stock indexes are mixed Thursday afternoon as industrial companies like defense contractor Raytheon fall and drugmakers including Bristol-Myers Squibb rise.
Bond yields are climbing to their highest levels since May. That's helping send bank stocks higher, since they'll earn more from lending as interest rates rise. It's also sending high-dividend stocks like utilities and real estate companies lower as bonds become more appealing to investors seeking income.
KEEPING SCORE: The Dow Jones industrial average gained 12 points, or 0.1 percent, to 18,211 as of 2:02 p.m. Eastern time. The Standard & Poor's 500 index remained at 2,139. The Nasdaq composite lost 17 points, or 0.3 percent, to 5,233. But far more stocks were falling than rising. On the New York Stock Exchange, decliners outnumbered rising stocks by about two-to-one.
INDUSTRIALS: Defense contractor Raytheon gave up $4.78, or 3.4 percent, to $136.50 as its outlook failed to impress investors. Communications and surveillance company L-3 Communications gave up $10.07, or 6.8 percent, to $138.64 after it posted weak sales. Aerospace giant Boeing lost $2.60, or 1.8 percent, to $142.94 after it surged almost 5 percent Wednesday. That was its biggest gain since January 2015.
FEELING BETTER: Bristol-Myers Squibb broke out of a slump after it raised its annual forecasts. The stock has fallen by about one-third since early August as investors worried about sales of its cancer treatment Opdivo. Its revenue from Opdivo tripled in the third quarter. The stock rose $2.93, or 5.9 percent, to $52.22.
Biotech drugmaker Celgene also raised its forecasts as sales of its cancer drug maker Revlimid and newer medications kept rising. The stock added $6.45, or 6.6 percent, to $104.86.
BONDS: U.S. government bond prices dropped. The yield on the 10-year Treasury note jumped to 1.85 percent from 1.79 percent a day earlier, its highest yield in almost five months. Financial stocks rose as investors hoped that higher rates would help banks earn more. Bank of America rose 20 cents, or 1.2 percent, to $17.07 and U.S. Bancorp gained 72 cents, or 1.6 percent, to $44.95. High-dividend real estate companies fell for the second day in a row and are now lower for the year. Utilities also slumped.
CHIP IN: Smartphone chipmaker Qualcomm said it will buy NXP for $110 per share in cash. Qualcomm jumped $3.09, or 4.5 percent, to $71.29 and NXP rose 74 cents to $99.40. The deal has been rumored for about a month and investors were excited about the prospect. Qualcomm has climbed 12 percent and NXP is up 21 percent since it was first reported that the companies were in talks.
DIALING FOR DEALS: Phone companies Level 3 Communications and CenturyLink surged after the Wall Street Journal said the two companies are in talks to combine. CenturyLink soared $2.85, or 10.1 percent, to $31.10 and Level 3 climbed $3.75, or 8 percent, to $50.67. AT&T, Verizon and Frontier Communications also rose.
RED LIGHT: Automaker Ford said its quarterly profit fell by more than half as it deals with a big recall and a tricky launch of heavy-duty pickups. Its stock sank 19 cents, or 1.6 percent, to $11.69.
NOT STRONG ENOUGH: Nutritional supplement maker GNC Holdings tumbled again after it reported a smaller profit and weaker sales than investors anticipated. The stock dropped $4.46, or 22.1 percent, to $15.68, and it's down 49 percent this year.
A DISCOUNT? Online daily deals service Groupon disclosed better results that investors expected, but also said it's buying competitor LivingSocial. They companies did not announce terms of the deal. Groupon lost $1.02, or 19.4 percent, to $4.24.
CHANNEL CHANGER: Comcast continued to fall as investors worried about competition it could face from a new online TV service. AT&T's DirectTV Now was announced Tuesday and will start in November, joining services from Dish Network and Sony. Hulu plans a similar service next year. Comcast lost $1.29, or 2.1 percent, to $61.27 after falling 3 percent Wednesday. That helped take consumer stocks lower.
ENERGY: Oil prices recovered after falling for three days in a row. U.S. benchmark crude rose 65 cents, or 1.3 percent, to $49.83 a barrel in New York. Brent crude, the international standard, added 71 cents, or 1.4 percent, to $51.75 a barrel in London. Energy companies traded higher. ConocoPhillips climbed $2.49, or 6 percent, to $44.29 after its third-quarter report and EQT rose $2.53, or 3.9 percent, to $66.89.
ZTO's IPO: ZTO Express, an express delivery company in China, went public in the largest IPO of the year so far. The company's offering of 72.1 million U.S. shares raised $1.4 billion. The offering priced at $19.50, and shares lost $1.90, or 9.7 percent, to $17.60.
CURRENCIES: The dollar rose to 105.30 yen from 104.54 yen. The euro dipped to $1.0896 from $1.0906.
METALS: The price of gold rose $2.90 to $1,269.50 an ounce. Silver rose 1 cent to $17.64 an ounce. Copper picked up 2 cents to $2.16 a pound.
OVERSEAS: Germany's DAX stock index picked up 0.1 percent and the FTSE 100 in Britain rose 0.4 percent. The French CAC 40 was little changed. Japan's benchmark Nikkei 225 index slipped 0.3 percent while South Korea's Kospi rose 0.5 percent and Hong Kong's Hang Seng lost 0.8 percent.
___
AP Markets Writer Marley Jay can be reached at http://twitter.com/MarleyJayAP His work can be found at http://bigstory.ap.org/journalist/marley-jay