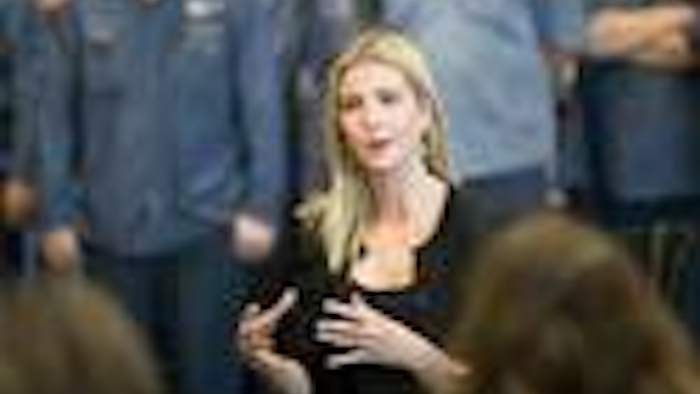 WASHINGTON (AP) — The Latest on the U.S. presidential campaign (all times EDT):
3:05 p.m.
Donald Trump's daughter Ivanka toured a southwest Ohio manufacturing plant and met with workers and businesswomen in a Republican-dominated region in the swing state.
Angela Phillips, the owner of Middletown Tube Works, guided Ivanka Trump on the visit Thursday that included a forum with local businesswomen.
Middletown is some 30 miles north of Cincinnati. It's a steel-mill city within a stretch of counties that have voted heavily for the Republican nominees in recent presidential elections.
The Trump campaign scrubbed a planned fundraising event featuring Ivanka Trump later Thursday in hurricane-threatened Florida.
Trump's eldest daughter is one of his closest advisers and has played a highly visible role in the campaign, including appearing in a recent TV ad.
Her father plans an Oct. 13 rally in downtown Cincinnati.
___
12:55 p.m.
Hillary Clinton's campaign is canceling ads that were to air on Florida stations that carry the Weather Channel. The decision comes as Hurricane Matthew gains strength.
Clinton spokesman Jesse Fergus said Thursday that the campaign asked the stations to delay the ads until after the storm passes.
The Florida Weather Channel ads were part of a multimillion-dollar reshuffling of Clinton ads to reach voters the campaign sees as critical to winning the election.
In the past few days, Clinton had added numerous local cable stations, including some carrying the Weather Channel in Florida and in New Hampshire.
___
11:50 a.m.
Mike Pence is making a quick tour of the battlefield at Gettysburg, Pennsylvania before addressing a rally at a nearby hotel.
The Republican vice presidential nominee is campaigning through Pennsylvania en route to Ohio.
Pence saw where soldiers from his home state of Indiana fought. The governor and his daughter Charlotte placed flowers at a memorial on the site.
Heading to the hotel for his speech, Pence asked his bus driver to stop near the cemetery where President Abraham Lincoln gave the Gettysburg Address in November 1863.
Pence and his daughter walked up the hill to the high point in the cemetery past hundreds of the markers of unknown soldiers of the Civil War.
___
11:35 a.m.
The political odd couple of 2016 — Donald Trump and Speaker Paul Ryan — will carve out time together for an annual Wisconsin fall fest.
Ryan and Trump will join other state politicians, including Gov. Scott Walker and Sen. Ron Johnson, at a Saturday event in the battleground state.
Ryan was slow to endorse Trump, earning the businessman's wrath. The top congressional Republican has been critical of the GOP presidential nominee on a range of issues, from the ban on Muslims to Trump's slow disavowal of white supremacists. Most recently, Ryan said Trump should release his tax returns.
Johnson is considered one of the most vulnerable Republicans in his campaign against former Democratic Sen. Russ Feingold. Republicans have cut spending in the state and so have confident Democrats.
___
11:25 a.m.
Thirty former Republican members of Congress are warning that the prospect of a Donald Trump presidency represents an "unacceptable danger" to America.
The former officials represent 22 states — including presidential battlegrounds like Ohio, Pennsylvania, New Hampshire and Virginia. In a statement released Thursday, they are vowing not to vote for Trump under any circumstances. They say they differ on how they'll cast their ballots.
They said Trump's "disgraceful candidacy is indefensible" and that "this is no longer about our party; It's now about America."
Organizers of the group include former congressmen Tom Coleman, of Missouri, and Mickey Edwards, of Oklahoma. Some had signed a letter in August urging the Republican National Committee to abandon Trump and focus its resources on protecting Republican majorities in the House and Senate.
___
9:35 a.m.
Both major presidential candidates are advising Florida residents to use caution as Hurricane Matthew approaches.
Republican Donald Trump tweeted late Wednesday: "Praying for everyone in Florida. Hoping the hurricane dissipates, but in any event, please be careful."
In her tweet Thursday, Democrat Hillary Clinton urged Florida residents to prepare for the storm "and evacuate if you're told to." Clinton wrote: "Stay safe Florida."
Matthew is threatening the east coast of Florida, potentially as a Category 4 storm with 130 mph winds. The storm is nearing one of America's top presidential battleground states nearly a month before Election Day and days before the state's Oct. 11 voter registration deadline.
___
9:20 a.m.
Tim Kaine says there's a "level of desperation" in Donald Trump's campaign caused in part by the performances of Trump and his running mate in the two debates.
The Democratic vice presidential nominee said Trump flopped in his first debate. Kaine said his Republican counterpart, Mike Pence, refused to defend Trump during the vice presidential debate on Tuesday.
Pence's performance was widely praised, but Kaine said Pence "basically threw him (Trump) under the bus, again and again and again."
Kaine credited his own performance, saying the post-debate focus has been largely on Pence's differences with Trump and not on Kaine's aggressive debate style.
Kaine was speaking to reporters Thursday outside a school in Philadelphia, where he took part in a rally calling for more spending on public education.
____
8:20 a.m.
Mike Pence says both Donald Trump and Hillary Clinton have "many admirable qualities young people can look up to."
The Republican vice presidential candidate's unexpected praise for the Democratic nominee came Thursday on NBC's "Today" show when he was asked whether he thinks his running mate is a role model for children.
The question has become a tricky one for Republicans.
Republican Sen. Kelly Ayotte made news this week by initially answering yes, but then changing her answer to no.
Pence was more diplomatic — and prepared. Without directly calling either candidate a role model, he offered praise for both candidates.
He said the Republican businessman is an example of a "strong leader" and Clinton should be recognized for becoming the first female nominee from a major party.
___
8:05 a.m.
The Senate's top Democrat is again blasting Donald Trump, this time for matters close to home.
Harry Reid is criticizing the Republican presidential nominee for lecturing a Nevada audience on how to pronounce the name of Reid's home state. Trump said Wednesday that it should be pronounced "Neh-VAH-da" instead of "Neh-VAD-uh."
Reid said in a statement Thursday that "if Donald Trump wants to come down from the penthouse his daddy bought him to lecture us on how to say Nevada, he could at least pronounce it correctly."
Reid also criticized Trump for not taking a position on a decades-old dispute over storing nuclear waste in Nevada's Yucca Mountain.
Reid said: "I have news for Donald: It's pronounced 'Nev-AD-a' and Yucca Mountain is dead," Reid said.
___
7:30 a.m.
Hillary Clinton is airing a new 60-second ad casting her as the candidate who will focus on the needs of children and their families.
Clinton's ad uses home video footage of children as she asks how America measures greatness. She asks: "The height of our skyscrapers? The size of our bank accounts?" That's a clear reference to rival Donald Trump.
The Democratic presidential nominee says that greatness is "measured by what we do for our children."
Clinton has been increasingly speaking of her own priorities as president, instead of primarily attacking Trump.
The ad will air in the battleground states of Florida, Iowa, North Carolina, Nevada, Ohio and Pennsylvania and on national cable.
___
3:20 a.m.
Donald Trump once called data "overrated" in politics. But with Election Day approaching, the Republican presidential nominee is spending millions of dollars on data and digital services in an effort to land donations and win over voters.
Trump was convinced by his son-in-law Jared Kushner and his digital director, Brad Parscale, that an ambitious data effort is worth the money.
Modern political campaigns gather up as much data as possible to raise money and identify and turn out voters. They use voter registration files, information about consumer habits and beliefs, and much more.
In August, Trump spent $11 million on Parscale's digital firm. That was a 60 percent leap from July. Records show Trump also has spent $350,000 in two months on a data vendor.