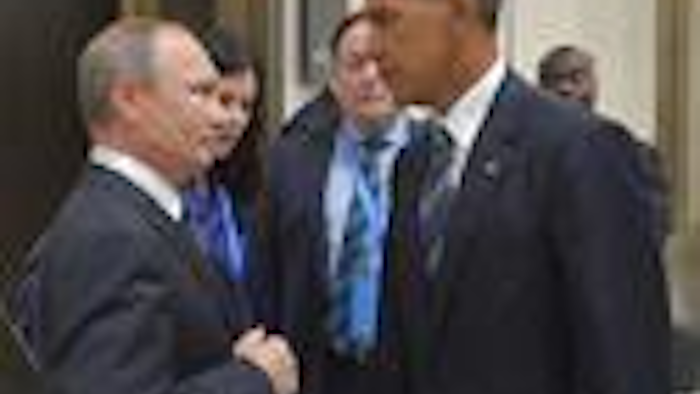 HANGZHOU, China (AP) — China agreed to steps toward reducing its politically volatile steel exports but avoided binding limits as leaders of major economies ended a summit Monday with a forceful endorsement of free trade and a crowded agenda that included the Koreas, Syria and refugees.
In a joint statement, President Barack Obama and Chinese President Xi Jinping and the leaders of Britain, Japan, Russia and other Group of 20 economies pledged to boost sluggish global growth by promoting innovation and to strengthen the global financial system.
In an effort to shore up public support for trade, they promised "inclusive growth" to spread the benefits of closer global integration more widely to millions of people who have been left behind by wrenching change. The pledge reflected a growing recognition that economic strains are fueling political tensions and a growing clamor to protect local industries.
Chinese leaders hope the two-day meeting will increase their influence in managing the global economy.
They have said they want the G-20, created to respond to the 2008 financial crisis, to take on a longer-term role regulating the global economy. The joint statement reflects that ambition by calling the G-20 the "premier forum" for economic cooperation.
Beijing made trade a theme of the gathering in this lakeside city southwest of Shanghai but faces complaints that a flood of low-cost Chinese steel into global markets threatens U.S. and European jobs, propelling the rise of political movements that promise to curb trade.
The joint statement calls for formation of a steel forum under the Organization for Economic Cooperation and Development to study excess production capacity.
In a concession to Beijing, the statement doesn't mention China by name and says excess steel capacity is a global issue, though U.S. and European officials say the vast Chinese state-owned industry, which accounts for half of worldwide output, is the root of the problem. Washington has hiked import duties by 500 percent on Chinese steel to offset what it says are improper subsidies.
Beijing promised in January to reduce steel production capacity by 100 to 150 million tons by 2020, a pledge Xi repeated Saturday ahead of the G-20 meeting. But that is half of China's estimated excess capacity of 300 million tons, so deeper cuts would be required to bring it in line with demand.
"The market is distorted by subsidies and other support measures, and that is the fundamental problem," said Japanese Prime Minister Shinzo Abe, according to broadcaster NHK.
The president of the European Union's governing body, Jean-Claude Juncker, called Sunday for the G-20 to take action on steel. He said the trade bloc will look at Beijing's response when deciding whether to grant China market economy status, which would make it harder to bring anti-dumping cases.
The creation of the global steel forum could help to ease strains between Beijing and its trading partners, said economist Rajiv Biswas of IHS. "It may help to reassure countries about tangible steps China is taking," he said.
Obama, Xi and other leaders called repeatedly during the meeting for governments to defend free trade.
"The benefits of trade and open markets must be communicated to the wider public more effectively," said the joint statement.
The World Trade Organization is forecasting global trade growth this year at just 2.8 percent — its fifth year below 3 percent. The International Monetary Fund has cut its outlook for global economic growth to 3.1 percent.
Despite the joint statement's positive language, the G-20 is unlikely to be able to do much to boost trade or economic growth, Biswas said. He noted that talks on Obama's TPP initiative for Asia-Pacific governments and a U.S.-European pact have slowed or stalled, while Britain is wrestling with the effects of its June vote to leave the EU and other economies, including Russia and Nigeria, are in recession.
"On the global growth front, I would say it is hard for the G-20 to come up with a coordinated action plan because many of the countries are caught up in domestic issues," Biswas said.
The summit was frequently overshadowed by other concerns and got off to a rocky start Saturday when there was no staircase at the airport for Obama to exit his plane. The president used an alternative exit, but quarrels with Chinese officials broke out on the tarmac and at other venues over access by U.S. officials and the traveling press.
Heavy security for the event brought Hangzhou, a city of 2.5 million people, to a standstill and left downtown streets deserted.
On Monday, North Korea added to the drama by firing three ballistic missiles off its east coast.
The U.S. says that and other recent tests violate U.N. Security Council resolutions and pose a threat to aircraft and ships nearby.
At about the same time, Xi was in Hangzhou telling his South Korean counterpart, Park Gyun-hye, that China opposes plans to deploy a U.S. anti-missile system in South Korea.
China has previously warned against Seoul's decision to base the U.S. Terminal High Altitude Area Defense, or THAAD, system south of the South Korean capital, Seoul. But Monday marked the first time Xi raised the issue directly with Park.
Beijing complains the system will allow the U.S. military to peer deep into northeastern China.
Another key issue at the meeting was Britain's vote to leave the 28-nation EU trade bloc, seen by some analysts as the first in a wave of moves by governments to withdraw from free trade.
British Prime Minister Theresa May, who took office after the referendum, spent much of the summit trying to reassure other governments that Britain was not isolating itself.
Russian President Vladimir Putin and his Turkish counterpart, Recep Tayypip Erdogan, met to discuss the conflict in Syria and to try to mend frayed relations.
___
Associated Press writers Louise Watt and Christopher Bodeen in Hangzhou and Mari Yamaguchi in Tokyo contributed to this report.