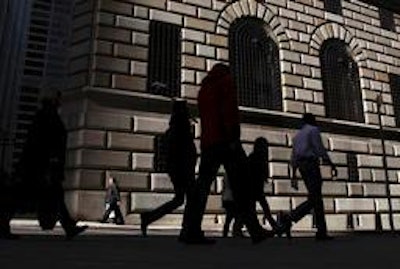 WASHINGTON (AP) — Factory activity in New York shrank in May after expanding for two months, as manufacturers received fewer orders and shipments fell.
The Federal Reserve Bank of New York said Monday that its Empire State manufacturing index slumped to minus 9 in May, after reaching 9.6 the previous month. Any reading below zero points to contraction.
The figures indicate that factories in the state continue to struggle despite growth in March and April. Factory output nationwide has been sluggish in the past year as a weak global economy has lowered exports and U.S. businesses are spending less on equipment and machinery.
A measure of new orders fell to minus 5.5, from 11.1 the previous month. That suggests factory output may contract again next month. And a gauge of shipments also slipped into negative territory, falling to minus 1.9 from 10.2.
The employment index was little changed. But a measure of hours worked declined, evidence that factory workers put in fewer hours and will receive slightly smaller paychecks as a result.
An index of capital spending by New York manufacturers, which measures their plans to spend on large equipment, fell to its lowest level in more than two years.
U.S. manufacturing has started to improve a bit in recent months, according to nationwide data, but growth remains tepid. Factories were held back last year by a strong dollar, which makes U.S. products more expensive overseas. But the dollar has declined since January, giving manufacturers some relief.
The Institute for Supply Management, a trade group of purchasing managers, said earlier this month that its manufacturing index topped 50, a sign of expansion, for the second straight month in April. That index had been below 50 for five months until March.