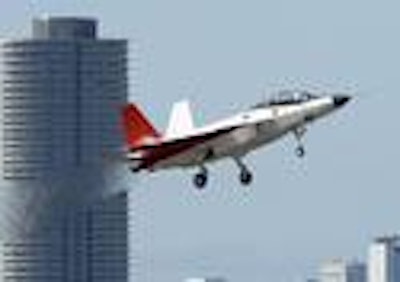 TOKYO (AP) — Japan's first domestically manufactured stealth plane has made its first flight, making Japan one of only a handful of nations with airplane stealth capabilities.
The red-and-white prototype X-2 took off from Nagoya airport Friday and flew 25 minutes to an Air Self-Defense Force base in nearby Gifu Prefecture.
The X-2 is designed to test stealth technology that could be used in Japan's next-generation fighter jet.
The stealth plane, with a 14-meter- (45-foot-) long fuselage and 9-meter- (30-foot-) wingspan, comes with radar-resistant features, such as a canopy with stealth-enhancing coating.
It was developed by a consortium led by Mitsubishi Heavy Industries at a cost of 39.4 billion yen ($360 million), according to Japanese media reports.