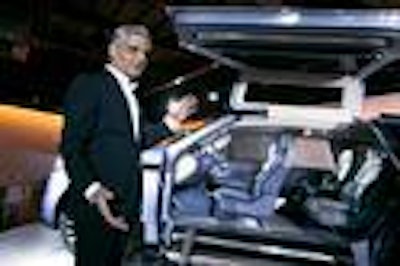 DETROIT (AP) — A spacious lounge on wheels.
That's Ford Motor Co.'s vision for the Lincoln Navigator SUV, due for its first major redesign in a decade. Lincoln is showing off a concept version of the vehicle Wednesday at the New York International Auto Show.
The Navigator will drop some weight, helping fuel economy, but will still be a behemoth at more than 17-feet long. Executives say engineers took steps to erase what Navigator customers didn't like and accentuate what they did.
By watching customers, engineers found that people wanted to relax in their SUVs with less complexity. So they tried to create a "personal sanctuary" with large but supportive seats and a spacious feel. They made the dashboard less cluttered with only essential information such as vehicle speed on the display. Other information, such as the identity of a phone caller or a song on the radio, fades away after the first showing.
David Woodhouse, design director for the Lincoln brand, said they went for "a beautiful lounge-like space for the occupants."
Lincoln has largely missed the luxury SUV boom that happened in part because of cheap gasoline. The brand sold only about 12,000 Navigators last year while its main competitor, General Motors' Cadillac brand, sold almost 36,000 Escalades. The Navigator, based on truck underpinnings, has been updated but not completely revamped since 2006.
Kumar Galhotra, president of the Lincoln brand, expects the new vehicle to capture a bigger chunk of the market now dominated by GM.
Galhotra wouldn't comment on expectations that the new Navigator will have an aluminum body like Ford F-150, which is 700 pounds lighter than the model it replaced. The new model needs to be lighter to meet federal fuel economy standards. No gas mileage or weight figures for the new vehicle were released Wednesday.
The new Navigator will be smaller than the current extra-length version, but bigger than the standard model, which is 17.3 feet in length. The current standard model weighs 2.9 tons.
One feature on the concept won't survive in the production version that comes late next year: huge gull-wing doors that cover the first two rows of seats. They're too heavy and tough to make work in real life.
Second- and third-row passengers also get video screens behind the headrests that are a foot wide. Drivers can show their faces on the screens and communicate with the back-seat passengers without turning around or yelling.
The SUV also will get a twin-turbo version of Ford's 3.5-liter V6 engine with over 400 horsepower.