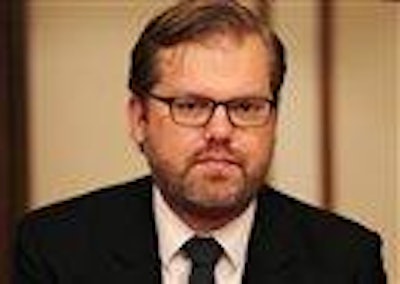 DUBAI, United Arab Emirates (AP) — Two months after the implementation of last year's landmark nuclear agreement, a U.S. diplomat is on an unlikely mission — promoting Iran to firms that want to tap into its massive market but fear other sanctions, or that the next American president could scrap the deal.
It's not an easy task for Chris Backemeyer or other Americans on the equivalent of a nuclear deal roadshow, especially as Iran's Revolutionary Guard continues to fire off ballistic missiles and U.S. Republican presidential candidates vow to tear up the pact if elected.
Despite the political risks in both countries, Backemeyer said the deal to lift sanctions in exchange for limiting Iran's ability to enrich uranium will prevent the country from being able to build a nuclear weapon, and is likely to survive the contentious debate of the campaign season.
"Throughout our history, there's been a lot of arms-control agreements and nuclear agreements that have been violently opposed by whatever party was not in the office at the time, and most of them have lived with them afterwards," said Backemeyer, the U.S. State Department's principal deputy coordinator for sanctions policy.
"While they may think they can get a better deal, (or) could have gotten a better deal, walking away from one that's working isn't wise."
World powers reached the deal with Iran in July 2015 and implemented it in January. In the time since, Iranian banks have been reconnected to a global wire transfer system while Airbus signed a 22.8 billion euros ($25 billion) deal with Iran Air for it to buy 118 aircraft.
While European companies have charged ahead into Iran, American firms or those with U.S. interests have moved much more cautiously. That's due to a number of U.S. sanctions still in place, like ones over Iran's ballistic missile tests and its place on an American list of "state sponsors of terrorism." U.S. banks also cannot directly handle transactions involving the Islamic Republic or banks in the country.
In order to ease the concerns of business, Backemeyer and other State Department officials have met with companies in Dubai and elsewhere. Speaking Wednesday to journalists in the United Arab Emirates' city-state, Backemeyer acknowledged that "sanctions are very confusing," while saying U.S.-based companies with overseas subsidiaries potentially could do deals in Iran, so long as the money moved through foreign banks.
"I think some think because they have an employee in South Carolina that therefore their entire company has to be subject to the U.S. embargo and they can't do anything in Iran," he said. "That's obviously not the case. They just can't have the employee in South Carolina do anything with that transaction."
Still, some companies remain hesitant. Chicago-based airplane manufacturer Boeing Co. likely would want to sell airplanes and parts to Iran, something specifically allowed under the nuclear deal, but said earlier this month it only would offer "commercial passenger aircraft fleet planning with Iranian airlines approved by the U.S. government."
Asked about Boeing, Backemeyer said the company appeared to be "considering their options and that, I think, is a good thing." Boeing, which plans to send company officials to Tehran, did not immediately return a request for comment Wednesday.
In the wake of the nuclear deal, negotiated by the administration of moderate President Hassan Rouhani, hard-liners in the military and the parliament have pushed back. Iran conducted a series of ballistic missile tests criticized by America and launched rockets in the Persian Gulf near U.S. Navy vessels and commercial traffic. Iran's navy held 10 American sailors overnight after they entered the country's territorial waters, and an Iranian unarmed drone flew over and filmed a U.S. aircraft carrier.
Iran's Revolutionary Guard, which has been behind the most provocative actions, is also heavily involved in the Iranian economy, which could be a cause of concern. Backemeyer acknowledged that the Revolutionary Guard "do have involvement in the economy and that's one factor that companies need to embed in their risk analysis."
Iran meanwhile has arrested Iranian-American businessman Siamak Namazi and his 80-year-old father, Baquer Namazi, as well as Washington-based Lebanese citizen Nizar Zakka, who holds permanent-resident status in the U.S. The reasons for their detentions remain unclear, but Backemeyer acknowledged that it could give pause to American and foreign companies wanting to work in Iran.
"I think it would be easy to say that businesses are wary of that and certainly want to be prepared for that," he said.
Businesses also may have to prepare for the possible scrapping of the agreement, depending on who wins November's U.S. presidential election. Republican candidate Ted Cruz has pledged "rip to shreds this catastrophic Iran nuclear deal," a promise echoed by his rival, Donald Trump, who has called the deal "catastrophic for America, for Israel and to the whole Middle East."
Backemeyer said the U.S. remained committed to the deal, and that his mission is aimed not only at reassuring businesses, but also the Iranians.
"If we don't do this, it's easy for narratives to spring that we are in some way opposed to real sanctions relief," he said. "We are 100-percent committed to fulfilling our obligations under the (deal) and we are in no way trying to stand in the way of legitimate business activity in Iran."
___
Follow Jon Gambrell on Twitter at www.twitter.com/jongambrellap .