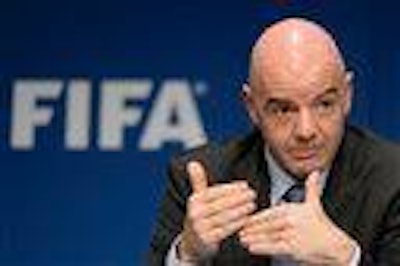 ZURICH (AP) — FIFA signed its first World Cup sponsor since 2013 on Friday, agreeing to a four-tournament deal with a Chinese conglomerate that has links to Sepp Blatter.
FIFA said the deal with property and cinema giant Wanda Group runs through the 2030 World Cup — the next time that China could host the tournament. The value of the top-tier partnership was not disclosed but is likely to top hundreds of millions of dollars.
The firm's Wanda Sports Holding subsidiary is led by Blatter's nephew, Philippe Blatter. Sepp Blatter was forced out as FIFA president by a corruption crisis.
Wanda Group chairman Wang Jianlin and Philippe Blatter were at FIFA headquarters on Friday to complete the first commercial deal for President Gianni Infantino, who was elected three weeks ago to succeed the now-banned Blatter.
"He is crazy about football," Infantino said of Wang, one of the richest men in China. "It is obviously an import strategic partner for the future."
Neither Wang nor Philippe Blatter attended the news conference and no one from Wanda Group was available to comment on the deal.
During his uncle's presidency, the Philippe Blatter-led Infront marketing agency won two FIFA contracts: To provide World Cup broadcasting services, and as a shareholder in MATCH Hospitality, which controls corporate seats at World Cup stadiums. Infront, based in Zug, Switzerland, was bought by Wanda last year.
Infantino said the Wanda deal met all of FIFA's stricter, new compliance standards.
"I am very well aware of the potential situations that can exist when you have partners who may have subsidiaries with commercial relations," he said.
FIFA last signed a World Cup sponsor 2 1/2 years ago, Russian energy giant Gazprom. The wait for more sponsors contributed to a $122 million loss in 2015 that FIFA announced on Thursday.
FIFA officials often acknowledged that potential commercial partners were put off by the scandals, and would wait until after the presidential election to sign.
The Wanda money will help fund the spending promises that Infantino made before his election last month, when FIFA officials warned voters of a $550 million shortfall in projected revenue through 2018.
"It will certainly help quite a lot to bridge that potential hole," Infantino said Friday.
On Thursday, FIFA committed to pay $517 million more to national, regional and continental soccer bodies that Infantino pledged over the next two years.
FIFA also upgraded its revenue forecast by $1.2 billion to $5.66 billion for a four-year commercial cycle tied to the 2018 World Cup in Russia.
Wanda Group is not the first World Cup sponsor from China. Energy company Yingli Solar was a second-tier sponsor for the 2014 tournament in Brazil.
Last December, online retail giant Alibaba sponsored FIFA's annual Club World Cup tournament through its car manufacturing subsidiary.
On Thursday, FIFA said it banked only $224 million last year from seven World Cup sponsors. That left 27 of the available slots to be filled for two-tournament deals covering 2018 in Russia and the 2022 World Cup in Qatar.
Wanda Group was the first of those 27, with others expected to follow.
"There will be some more positive news to announce in the coming weeks," Infantino said.
Regarding his own FIFA deal, the former UEFA general secretary said his salary was not yet finalized. It is expected to be less than his predecessor, who FIFA confirmed on Thursday got a $3 million base salary in 2015 in a total pay package of $3.76 million.
"This was not my priority," the 45-year-old Infantino said. "When this will be (agreed), you will know it as well."