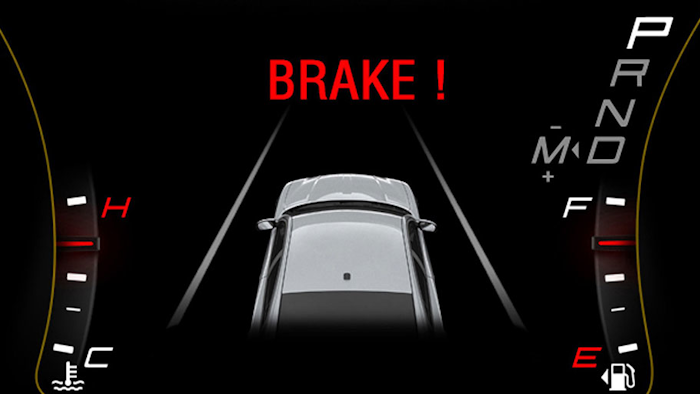 Nearly all new vehicles sold in the U.S. will be equipped with automatic emergency braking within the next decade, federal regulators announced Thursday.

The National Highway Traffic Safety Administration and the Insurance Institute for Highway Safety unveiled the commitment by 20 automakers to offer the systems as a standard feature in "virtually all new cars" by 2022 at a press conference outside Detroit.

The companies — Audi, BMW, Fiat Chrysler, Ford, GM, Honda, Hyundai, Jaguar Land Rover, Kia, Maserati, Mazda, Mercedes-Benz, Mitsubishi, Nissan, Porsche, Subaru, Tesla, Toyota, Volkswagen and Volvo — represent 99 percent of the U.S. auto market.

The systems, which use cameras and sensors to detect obstacles and, if necessary, slow or stop vehicles, are already available as an optional feature on many models. A recent IIHS study found that automatic braking cut rear-end crashes by nearly 40 percent.

Safety advocates previously called on regulators to make automatic braking systems mandatory, but NHTSA officials said that the voluntary agreement would put them on roads long before additional regulations could do so.

"By proactively making emergency braking systems standard equipment on their vehicles, these 20 automakers will help prevent thousands of crashes and save lives," Transportation Secretary Anthony Foxx said in a statement. "It's a win for safety and a win for consumers."

Nearly all light-duty cars and trucks 8,500 pounds or less will include the systems by 2022, while virtually all larger trucks will be equipped by 2025.

The NHTSA will track automakers' progress with assistance from Consumer Reports.

"This proven technology is among the most promising safety advances we've seen since electronic stability control almost two decades ago," said Consumer Reports auto testing director Jake Fisher.