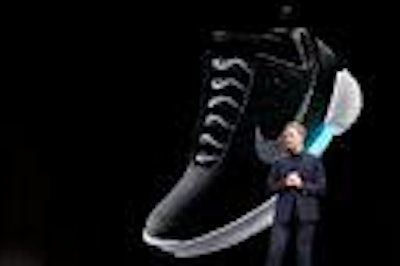 NEW YORK (AP) — Nike Inc. has unveiled its first self-lacing sneaker — it allows users to make the fit looser or snugger by pressing buttons on the side of the shoe.
The world's largest sportswear brand, based in Beaverton, Oregon, unveiled the sneaker along with a host of other innovations Wednesday at a media event in New York.
The innovations come as Nike is digging deeper into personalization and focusing on hitting the $50 billion revenue goal by 2020.
The self-lacing sneaker will be out starting the holiday season and will only be available for members of its loyalty Nike+ app.
When users step into the shoe, their heel will hit a sensor. The athlete then can press two buttons on the side that adjusts the grip.