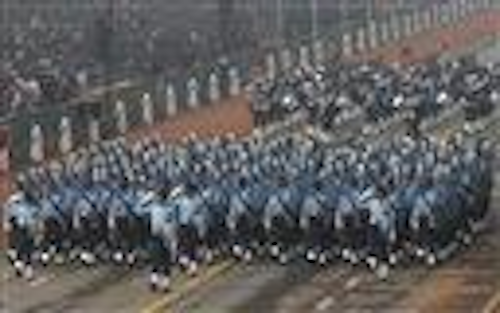 NEW DELHI (AP) — French President Francois Hollande was wrapping up his three-day visit to India Tuesday by watching an elaborate display of Indian military hardware and marching bands taking part in India's Republic Day celebrations.
He was joined by Prime Minister Narendra Modi and other top officials for the anniversary of India's democratic constitution taking force in 1950.
On Monday, French and Indian officials signed over a dozen agreements including one on jointly combating terror but stopped short of a final deal on New Delhi's desire to purchase 36 Rafale fighter jets. Both Modi and Hollande said that they hoped that a final agreement would be hammered out soon.
Modi had first announced India's intention to buy the French combat jets manufactured by Dassault Aviation in Paris in April. Since then official on both sides have been discussing prices, offsets and servicing details.
After viewing the parade, Hollande was expected to attend a reception at the Rashtrapati Bhawan, India's sprawling presidential palace.
The French leader arrived Sunday in the northern city of Chandigarh, where Modi joined him and lauded France's decision to invest $1 billion every year in India in various sectors.
Chandigarh was designed in the 1950s by Swiss-French architect Le Corbusier and is one of three places that France has pledged to help develop as so-called "smart cities" with clean water supplies, efficient sewage disposal and public transportation.
Hollande and French business leaders met with their Indian counterparts to boost bilateral trade, which in 2014 totaled $8.6 billion.