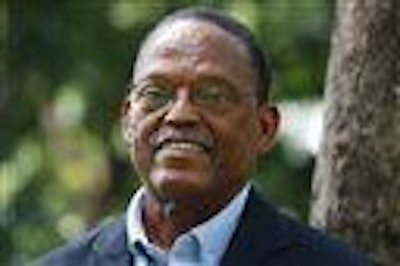 CAMBRIDGE, Mass. (AP) — Seated in one of two offices he maintains on the Harvard University campus, William Julius Wilson points to the far wall and his framed citation for the 1998 National Medal of Science, only the second one given to a sociologist.
"When President Clinton introduced me, he proceeded to talk about my book 'The Truly Disadvantaged,' and all these national scientists saw that the president not only read my book but could talk about it and had been influenced by it," he says. Clinton knew the book so well he even mentioned the page count, 187.
As soon as he got back home, Wilson says, "I pulled the book off the shelf, and yeah, the book was 187 pages of text."
Sociologists rarely achieve fame beyond their peers, but Wilson's influence extends from the campus to the inner city to television to the White House. National Book Award winner Ta-Nehisi Coates has called him an intellectual deity, a "gawd." David Simon of "The Wire" has said Wilson helped inspire the second season of the HBO program set in Baltimore. Members of the Clinton and Obama administrations have cited his work and sought his advice.
Wilson, who turned 80 in December, spoke with The Associated Press about his decades of thinking and writing about race, class, education and poverty and about how his ideas run through today's news stories, whether on income inequality or the Black Lives Matter movement.
"We should be cognizant of the choices available to inner-city families and residents in high jobless inner-city black neighborhoods," he says, "because they live under constraints and face challenges that most people in the larger society do not experience, or can't even imagine."
Some of Wilson's books have become standards, notably "The Declining Significance of Race," ''The Truly Disadvantaged" and "When Works Disappears." Combining field work, historical research and ideas rooted in experience and scholarship, Wilson has shaped a clear narrative: Over the past 60 years, black neighborhoods have been devastated by the departure of the middle class, the elimination of manufacturing jobs, declines in wages and cuts in government support.
Income inequality among blacks, once relatively small, now surpasses the gap among whites. The poorest areas — what Wilson has called "extreme poverty" — suffer from a self-reinforcing absence of role models, networking opportunities, transportation and social and training skills. Affirmative action programs, he has written, are worthwhile, but only help those already in position to have a job.
"What's most overwhelming about urban poverty is that it's so difficult to escape," then-Sen. Barack Obama said in a 2007 speech widely believed influenced by Wilson's thinking. "If poverty is a disease that infects an entire community in the form of unemployment and violence, failing schools and broken homes, then we can't just treat those symptoms in isolation. We have to heal that entire community."
As president, Obama chose as his education secretary Arne Duncan, who says of Wilson: "He has influenced me more than anyone I could think of."
"Wilson virtually invented contemporary urban sociology and reinvigorated the study of the ghetto poor," says Michael Eric Dyson, the best-selling author and professor of sociology at Georgetown University. "Anybody who studies any aspect of the broad impact of race and class, and the topography of black and urban culture, is in his debt."
Fellow Harvard sociologist Lawrence D. Bobo notes what he considers one of Wilson's most important contributions. In 1965, the Moynihan Report documented a rise in single-parent homes and out-of-wedlock births among blacks, an observation that led to sharp reactions from the left and right. Many liberals feared that criticizing inner-city families was racist and instead emphasized their resilience. Conservatives, meanwhile, cited family troubles as symptomatic of a moral breakdown.
Wilson was able to acknowledge the breakdown of families while rebutting arguments that black poverty was a "character" issue.
"What Bill did was show how larger forces, the economy and loss of jobs, were working in these communities," Bobo said.
And Wilson's research continues. He is an energetic man with a remarkably unlined face and youthful, wiry build who credits genes, (His mother lived into her 90s.) diet and exercise — 10 hours a week. A recipient of dozens of honorary doctorates, he is busy with one of his most ambitious studies, "Multidimensional Inequality in the 21st Century," a research project on poverty covering everything from the labor market to criminal justice.
"We not only hope to come up with comprehensive new findings that enhance our understanding of race and poverty, but to establish connections that will help us reach a broader audience, including policymakers," he says.
Policymakers have been paying attention for years. In the memoir "The Clinton Wars," former White House aide Sidney Blumenthal writes of meeting Bill Clinton at a conference when Clinton was still governor of Arkansas and discovering that both were admirers of "The Truly Disadvantaged."
While campaigning for president in 1992, Clinton said Wilson had made him "see the problems of race and poverty and the inner city in a different light." In the White House, Clinton was in frequent contact with Wilson, who remembers the detailed comments the president would add to memos he submitted. He laments the 1996 welfare act Clinton negotiated with the Republican-controlled Congress but praises Clinton's "Mend it, don't end it" defense of affirmative action.
"In one of the memos I sent to him, I urged him to use the term 'affirmative opportunity' when discussing or promoting affirmative action," Wilson says. "I pointed out that studies reveal that although they oppose the 'preferential' racial policies associated with quotas or job hiring and promotion strategies designed to achieve equal outcomes, most white Americans approve of 'opportunity-enhancing' affirmative action policies."
Wilson and Obama have ties dating to the 1980s, when Wilson was teaching at the University of Chicago and Obama was working as a community organizer on the city's South Side. Wilson's writings "deeply influenced Obama's perceptions of what he encountered in the streets and projects," Obama biographer David Maraniss told the AP, and the two met "several times over the years."
Wilson has had no direct communication with Obama in recent years — he is "puzzled" by this — but praises some of Obama's initiatives. Wilson calls the Affordable Care Act a profound benefit for poor blacks, and he was pleased with the funding from the stimulus package of 2009. "I just feel like things would have been a lot worse if he hadn't been president," Wilson says.
Duncan, Obama's education secretary, says Wilson has influenced his belief that many blacks remain poor because of lack of opportunity. He cites a poverty initiative established in 2010, Neighborhood Promise, which offers federal support for safety, health and education services.
"We're still grappling with these issues," Duncan says, "and Bill brings a level of insight and research and thoroughness that crystallizes the importance of giving people a chance to succeed."
Wilson's childhood gave him firsthand knowledge of poverty and how to escape it. Referring to Supreme Court Justice Clarence Thomas, who also grew up poor, he says, "He'll say he pulled himself up by his own bootstraps. I say I was in the right place at the right time."
Born in Derry Township, Pennsylvania, he was one of six children sharing a single room. His father was a coal miner and steel mill worker who died of lung cancer when Wilson was 12. His mother supported the family, as best she could, by working as a housekeeper. He credits an aunt in New York with exposing him to books and culture and giving him the confidence to seek a college education.
At Wilberforce University in Ohio, one of the nation's oldest black colleges, Wilson found a mentor in sociology teacher Maxwell Brooks, who inspired Wilson to think closely about his childhood growing up in poverty and experiencing racial discrimination in a small town with few African-American families.
"I wanted to gain a greater understanding of economic and racial subordination and how they impact the lives of individuals and families," he says. The direction of his studies was clearly "influenced by my childhood experiences."
Wilson was among the first generation of black scholars to benefit from the civil rights legislation of the 1960s — "right place, right time," he says — breaking into a field once almost exclusively white. He first joined the faculty of the University of Massachusetts, Amherst, and was recruited in the early 1970s by the University of Chicago, where he rose to national fame and remained until joining Harvard in 1996. He is now a University Professor, Harvard's highest ranking.
Duncan, a Chicago native who took a year off from college in the mid-1980s to work in the predominantly black Kenwood community, was so determined to meet with Wilson that he called repeatedly and eventually set himself outside Wilson's office.
"He was this eminent professor and I was this young kid," Duncan says. "I wore him down and we built a relationship. It changed my life."
Wilson's initial stature, ironically, was based in part on a misunderstanding. In his landmark "The Declining Significance of Race," published in 1978, he contended that advances in civil rights legislation and the expansion of the black middle class meant that economic issues were surpassing racial ones as the greatest challenges for the black community.
"In the economic sphere class has become more important than race in determining black access to privilege and power," he wrote. "It is equally clear that the black underclass is in a hopeless state of stagnation, falling further and further behind the rest of society."
Wilson believed that racism remained a critical problem, noting that "the presence of blacks is still resisted in various institutions and social arrangements." But the book's title was read by some as a declaration that prejudice was in decline and on its way to irrelevance, a favorite contention among those who opposed affirmative action and related programs. In 1981, after Ronald Reagan became president, Wilson received a call from a White House aide inviting him to a conference of black Republicans.
"And I said, 'Where in the world did you get the idea I was a black conservative?'" Wilson recalled. "And he said, 'Well, you're on our list.' And I said, 'Well, take me off your list.'"
With Republicans holding majorities in Congress, Wilson said he has little hope that the lives of poor blacks will improve in the near future, but he does not want to "wallow in pessimism." Asked what programs he would like to see implemented, regardless of their likelihood, Wilson says that he'd like to see a substantial expansion of Neighborhood Promise funding and believes more solutions will arise from his "Multidimensional Inequality" project.
"One of the things that the Harvard researchers who are involved in this project have in common is that we all want our research to have some impact outside academia," he says. "We don't want to simply engage other academics."