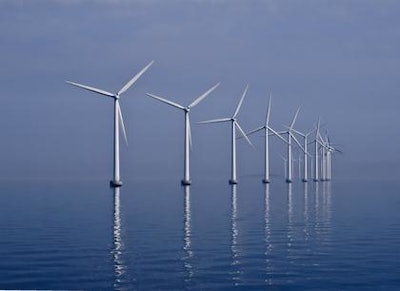 Rhode Island officials on Monday planned to mark the start of construction on what will eventually become the nation's first offshore wind farm.

Gov. Gina Raimondo, members of the state's congressional delegation and officials from Providence-based Deepwater Wind scheduled a celebration at Specialty Diving Services.

Welders at the Quonset company are currently working on the foundations for five wind turbines that will eventually comprise a wind farm near Block Island, located roughly 15 miles off the state's southern coast.

Houston-based Gulf Island Fabrications, which primarily serves the energy industry, is building the main components of the foundations in Louisiana. Those are scheduled to be shipped to Rhode Island and implemented this summer, with cables and turbines set for installation next year.

Officials expect the wind farm to begin operations next fall.

Deepwater Wind also plans a much larger wind farm of more than 200 turbines located between Block Island and Martha's Vineyard.

Although the Rhode Island project would be the nation's first, European nations embraced offshore wind in recent years.

The continent accounts for about 90 percent of the world's offshore turbines and its wind farms received a record $19 billion in investment last year. Future projects, meanwhile, could triple the industry's electrical output in Europe by the end of the decade.

The technology is not without its critics, however. Construction costs led to high electricity prices and reliance on government subsidies, while environmental advocates raised concerns about the impact of massive turbine networks on aquatic life and bird populations.