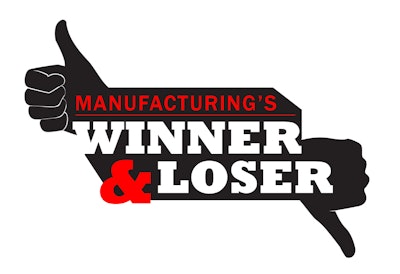 'Manufacturing's Winner & Loser of the Week' are two companies that have been having two very different weeks. The winner of the week has been experiencing an outstanding revival of success, while the loser is facing another week of bad news and even worse press.
Winner
"We had become a company that did not listen to our customers," said Legos Systems President, Soren Torp Laursen. While, this may not sound like a company that deserves the winning nod of the week right off the bat, just wait, because Lego has turned everything around. According to Bloomberg Business, the company has pulled themselves away from bankruptcy and are on the tenth consecutive year of growth.  
Laursen attributes this growth to a renewed focus on the consumer and understanding what the consumer is looking for in a product. "We are now really listening to the focus groups," adds Laursen.
He also explains that the company has begun to invest more in expanding their product development department. They are also creating more diverse holding of toys, for example Lego has created Lego Friends, a line aimed at girls that has experienced an annual growth rate of 20 percent since its introduction in 2012.
For all their success, and their renewed commitment to the customer, Lego has been dubbed 'Manufacturing's Winner of the Week.'
Loser
Most of us are familiar with the name Takata after recalls were issued for over two million vehicles due to faulty inflators that can explode, sending out dangerous metal shards. The defect is believed to be responsible for at least 6 deaths worldwide as of now. However, the company has resisted calls for a recall, so automakers have taken it upon themselves.
But it seems the time for patience is over. This week, it was announced that Takata would be facing a fine of $14,000 per day payable to the U.S. government for failing to completely cooperate in an investigation.
"Safety is a shared responsibility and Takata's failure to fully cooperate with our investigation is unacceptable and will not be tolerated," said Anthony Foxx, the Transportation Secretary for the National Highway Traffic Safety Administration. "For each day that Takata fails to fully cooperate with our demands, we will hit them with another fine."
According to Foxx, NHTSA has issued two special orders to Takata calling for documentation and other materials related to the companies investigation, but Takata has yet to cooperate.
In lieu of these new fines, Takata is 'Manufacturing's Loser of the Week'.