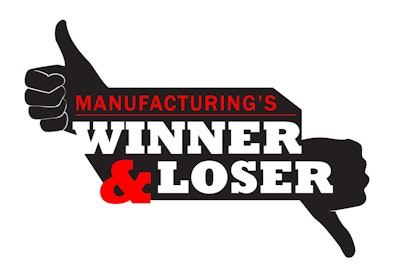 This week we have a winner who has exceeded expectations this year, while the loser has learned that while imitation may be the highest form of flattery, it does not bode well in the business sector.
Winner
This week, Caterpillar announced earnings that surpassed original estimates. In fact, the company boasted a more than 20 percent increase in the first quarter alone.
According to Chairman and CEO Doug Oberhelman, the company's success can be attributed to their clear focus on costs of business. He acknowledged that the company's mining business remained weak, but operating profit increased 18 percent to $986 million in Caterpillar's Energy & Transportation sector.
"We delivered solid results for the first quarter of this year, including higher profit than in the first quarter of 2014. Our focus on operational improvement, including lean manufacturing and cost management, is helping in what is a tough time for some of our important cyclical businesses. We continue to execute on improving safety, quality, inventory turns, delivery performance and market position," explains Oberhelman.
Loser
Jaguar Land Rover has not had the best week, and the source of their troubles is the Chinese LandWind. According to Jaguar, the Chinese car is a copy of their Range Rover Evoque SUV design.
Jaguar Land Rover CEO Ralph Speth spoke out saying, "I really regret that all of a sudden copy-paste is coming up again. That will not help the reputation of China, of Chinese industry at all."
"There are no laws to protect us, so we have to take it as it is," Speth explained. "In Europe, we can be protected against this kind of copy-paste in the design language, in the features but also the technology."
The news of the copy comes at a particularly bad time for Jaguar, as they have been trying to push sales in China and have also built a $1.8 billion factory to supply China with its Range Rover Evoque. 
What do you think?
Do you think this week's recipients deserved their titles? If not, who would you have chosen instead? Please share your thoughts in the comments below.