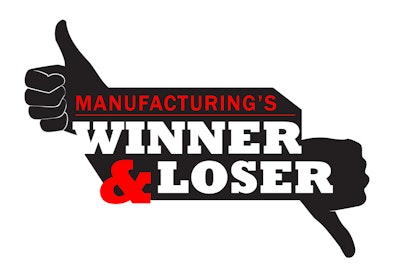 This week we have a winner who tallied huge amounts of business at the Paris Air Show, and a Toyota Executive arrested on drug charges, taking the losing title.
Winner
This week marks the 2015 Paris Air Show, an event where airline executives and airplane manufacturers come together for test flights and demonstrations of the newest technology in the industry. This year, by the end of the show over $107 billion in business was booked.
Standing in the spotlight for sales this year was Airbus, earning more than any other company present. The French aerospace manufacturer earned $57 billion worth of business for 421 aircrafts. In comparison, rival Boeing racked up orders for 331 planes worth $50.2 billion.
The largest deal made by Airbus during the show — in fact the biggest deal of the show overall — was with the European carrier Wizz Air. The company ordered 110 A321neos, which will cost more than $12.5 billion at list price.
Airbus's stellar success even surprised their own executives. Fabrice Bregier, the CEO, had predicted that they would receive around 200 orders or commitments by the end of the show — which they exceeded.
Loser
Julie Hamp, Toyota's Executive head of public relations, was arrested this Thursday on suspicion of importing a controlled substance into Japan. Now, this sounds like a PR nightmare.
​Hamp is the first foreign Toyota executive to be fully stationed in Japan and was in the process of moving her belongings from California to her new home when she was arrested on suspicion of importing the painkiller oxycodone.
According to the police, the drugs were found by customs officials in a package that Hamp had sent to herself via mail from the United States. Japanese media is reporting that the drugs were hidden in her jewelry box, although this has not been officially confirmed.  
Akio Toyoda, the President of Toyota Motor Corp., said that he believes Hamp had no intention of the breaking the law. He also apologized for the trouble of Hamp's arrest and explained that the company should have done more to help with the executive's relocation. Toyoda refrained from giving any information about the arrest, only that everyone was fully cooperating.
"For me and for Toyota, she is an indispensable and precious teammate," said Toyoda. "I believe that we will learn that she had no intent to violate the law."