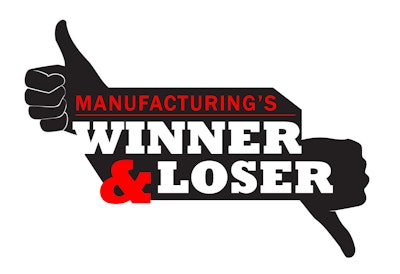 This week's winner scored a major $1.1 billion contract; this week's loser is expecting about 2,000 layoffs to begin before the end of the month.
Winner
Lockheed Martin landed a $1.1 billion contract with the United States Army Monday to manufacture Patriot Advanced Capability (PAC-3) missiles for the U.S. Army, South Korea, Saudi Arabia and Qatar.
According to the company, both PAC-3 and PAC-3 Missile Segment Enhancement (MSE) missiles and related equipment will be delivered under the contract. Lockheed Martin is expected to have the work finished on June 30, 2019, according to the U.S. Department of Defense.
"Our PAC-3 and PAC-3 MSE interceptors are the most trusted and capable terminal air defense missiles in the world, and we're proud to support our customers as they protect soldiers, citizens and infrastructure from adversary threats," said Scott Arnold, Lockheed Martin's VP of PAC-3 programs. "All Lockheed Martin-built missile defense interceptors utilize advanced hit-to-kill technology enabling better accuracy, enhanced safety and improved reliability when it matters most."
Loser
U.S. Steel's Granite City mill is expected to see about 2,000 temporary layoffs beginning Dec. 27.
The company says market conditions such as imports, depressed steel prices and fluctuating oil prices have all led to the decision to idle the mill. A majority of the steel produced at the southern Illinois plant is shipped to Texas, where is it turned into pipe for the oil and gas industry.
United Steelworkers Local 1899 President Dan Simmons says workers are disappointed not only with the shutdown overall, but especially with its proximity to the holidays. Simmons expects the shutdown to last longer than the last time the plant was idled, from November 2008 to June 2009.
The steel industry overall is struggling, as many mills are halting production due to the market.
Nucor Corp. announced Wednesday it will temporarily halt production at its St. James steel mill until market conditions improve. No employees will be laid off, according to St. James Parish President Timmy Roussel, and he hopes production will resume in January.