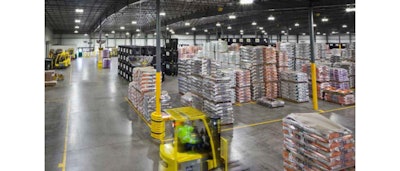 The Situation
As a sustainable agricultural company, St Louis-based Monsanto is focused on empowering farmers to produce more from their land while conserving more of our world's natural resources. This commitment to sustainability extends to Monsanto's own production facilities throughout the world, including those in 33 U.S. states.
In 2014, the company set out on a mission to further improve its carbon footprint by upgrading the lighting fixtures used throughout its indoor facilities to new energy-efficient lighting technologies. The initiative is furthering Monsanto's pledge – as detailed in its 2014 Sustainability Report – to reduce its operational greenhouse gas emissions intensity in its crop protection operations by 22 percent by 2020.
As part of an evaluation of energy efficient lighting options, Monsanto selected a corn production site in Grinnell, Iowa to conduct a pilot program in the fall of 2014. Two of the manufacturing facility's industrial spaces were operating with aging 440-watt metal-halide lighting that no longer met their performance standards, due to diminishing light quality and energy inefficiencies. The old lighting system was also creating safety concerns. When operating in cold weather, the fixtures were unable to generate sufficient lighting output to properly illuminate the facility.
As such, Monsanto broadened their lighting performance criteria for the program. In addition to more energy savings, the new fixtures would also need to provide higher illumination levels to combat lighting uniformity issues and dark spots throughout the facility's aisles which was especially important in the Grinnell warehouses as forklift operators require sufficient lighting at all times to perform their jobs safely.
"Increased safety was one of the driving factors in the decision to upgrade lighting," said Mike Holliday, professional engineer, Monsanto. "Before installing the new lighting, when staff would enter from other areas of the facility, the lighting differences were so extreme it would take a while for eyes to adjust – which could potentially lead to safety hazards."
The Solution
After a thorough review of HID and LED lighting options, Monsanto selected a high bay LED solution because of the technology's performance and payback benefits, including extended life and increased light output. A key factor in the decision was the ability of LEDs to perform at optimal levels in cold weather and amid sudden temperature changes.
The two Grinnell facilities were retrofitted with 247 Phuzion LED high bay fixtures from Holophane (an Acuity Brands company). To further contribute to energy savings, the LED high bays at the Grinnell warehouses were outfitted with controls that integrated occupancy sensors – which turn on the fixtures when a moving body or object is detected within 15 to 20 feet and remain off when there is no one in the space.
"The Phuzion LEDs are a versatile option for our facility," said Philip Niemerg, electrical engineer, Monsanto. "They have a longer life, higher output and they are not affected by the cold. We can also order different lenses on the fixtures and easily wash them down to accommodate facilities that work with chemicals."
The Impact
Employees have expressed overwhelmingly positive feedback regarding the new LED high-bay lighting installations at Grinnell. Thanks to the increased light levels, safety issues present before the installation have been eliminated.
"The forklift operators agree it's a night and day change," said Niemerg. "With the old lights, their eyes took much more time to adjust when entering and leaving the facility. Now, their visual comfort has increased, which in turn is reducing safety hazards."
Energy savings are also significant. The new LED lighting uses 190 fewer watts per fixture compared to the old metal-halide fixtures. Energy consumption is further reduced because the new fixtures have a quicker start-up time and are controlled by occupancy sensors, so spaces are only illuminated when in use.
"Employees would be reluctant to turn off the metal-halide lights because it took so long for them to start up again," said Holliday. "That's no longer an issue since the LED high bays have instant-on capabilities."
The success of the Grinnell project has inspired other Monsanto facility managers to follow suit with LED lighting and controls solutions tailored to meet their particular needs. The company plans to conduct similar lighting studies in other facilities to determine optimal lighting levels and prioritize future lighting upgrades.