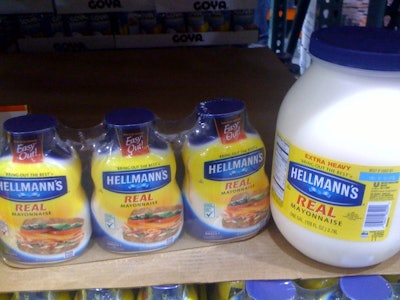 Who requires mayonnaise by the gallon? Who needs a 50-pound sack of rice? Do large-pack products benefit the retailer or the consumer?
There is evidence that large-packaged goods such as these came into existence to help warehouse stores get around the Robinson-Patman Act's price equality provision (section 2(a)) which requires manufactures to provide products of like grade and quality to competing buyers at equal prices, subject to some exceptions. Costco, Sam's Club and others can use their sales volume to negotiate lower per-unit prices by buying products in unique package sizes. But if section 2(a) spawned larger packages, section 2(e) might now act as the fodder to kill them. At least, that is what is at stake in a case before the U.S. District Court for the Western District of Wisconsin. [1]
In Woodman's Food Market, the Court recently rejected the defendant's motion to dismiss. All manufacturers of goods should take heed of the Court's order, as this case can potentially complicate their sales practices. Specifically, manufacturers may find themselves having to alter their desired packaging and potentially frustrate some large customers.
Woodman's: A brief summary
In Woodman's, the plaintiff argued that the defendant, Clorox, violated sections of the Robinson-Patman Act (RPA) pertaining to price discrimination. At issue was Clorox's decision to discontinue sales of "large pack" products to Woodman's. Instead, Clorox would sell the large-pack products only to what it called "club retailers", including Costco and Sam's Club. Woodman's could still purchase Clorox products in smaller packages, but often at a higher cost per unit than the large-pack items.
Woodman's sued on the grounds that Clorox's decision violated RPA provisions concerning price discrimination in the services or facilities of processing and handling.[2] These provisions prevent manufacturers from giving certain buyers an edge by:
Paying allowances, or
Providing services not otherwise available to other customers.
Clorox argued that the large-pack items were simply different products that it did not care to sell to Woodman's. Clorox moved for dismissal for failure to state a claim under Fed. R. Civ. P. 12(b)(6). Clorox argued that its refusal to sell was akin to unilateral refusal to deal, which is permissible under Colgate and its progeny. The Court denied the motion.
Move over, 2(a)
Section 2(a) of the RPA has long restricted the behavior of product makers. Specifically, it requires that competing customers have the ability to purchase goods of like grade and quality at equal prices. Successful manufacturers are careful not to run afoul of this provision and have substantial albeit old case law to guide them.
The litigation history of sections 2(d) and 2(e) is shorter, however, and may leave manufacturers without a clear path forward. Before offering packaging that differs in any way between customers, manufacturers need to better understand the arguments put forth, and the reasoning behind the Court's order in Woodman's.
Packaging as promotional service?
The case between Woodman's and Clorox turns on whether packaging size fits within the boundaries of "promotional services." Neither "services" nor "facilities" have clear definitions in the RPA or in court decisions interpreting the Act, and FTC guidelines provide limited assistance.
Woodman's argued that its customers benefit from larger packs, as it is more convenient to buy those goods and transport them home less frequently. According to Woodman's, the packaging itself provides an incentive for consumers to buy the larger products. It also offered a price incentive, as the larger packs cost less per unit.
For legal support, Woodman's turned to two FTC decisions from 1940 and 1956. The administrative decisions involved a smaller package of cosmetics and an institutionalized sized package of coffee. Both decisions stated that selling the differently sized packages to some customers, but not others, violated section 2(e).
Clorox argued that a larger-packaged item is different from its smaller version. The package is not a service to help the retailer sell to the general public, but defines the product itself. Clorox also argued that the FTC decisions are antiquated and nonbinding. It also put forth an FTC case along with several U.S. Supreme Court cases to support its argument.
The case must go on
In its opinion and order, the Court focused its analysis on whether large-packaged goods fit within the terms of "promotional services." It turned to the FTC published guidelines, which specifically listed activities it deems promotional services. The guidelines specifically listed "special packaging, or package sizes."
The Court also reviewed the facts at issue in the FTC cases put forth by Woodman's. It stated that the cases "seem dispositive." It also found that the cases and FTC decision that the defense relied upon were not on point. Therefore, it held that Woodman's allegations are sufficient to state a claim under the RPA.
For counselors—who may find themselves challenged by the lack of recent case law interpreting Sections 2(d) and 2(e)—this decision shows that pre-Chicago-School cases cannot be disregarded when advising clients. The relevance of the FTC's Fred Meyer Guides may also have been reaffirmed.   
This decision was at the early procedural stage of a "Rule 12" motion, however, so it remains to be seen if and how the court's disposition may change after the parties develop the factual record. If the court's analysis does not change after an examination of the facts, however, manufacturers may need to more seriously consider the idiosyncracies of RPA when making their packaging decisions. That choice may come down to either less-than-desirable packaging (from the manufacturer's perspective) or risking an RPA violation. Or—ironically for Woodman's and many others—they could simply take advantage of the Colgate doctrine and simply refuse to supply retailers that do not adhere to their policies.
A note on "competitors" under the RPA
It is important to note the RPA view of "competitors" when determining whether a manufacturer can sell differently packaged goods to different buyers. Basically, the RPA finds that anyone in the business of distributing the product is in competition with all other distributors.
Note that the focus is on the product, not the retailers' or distributors' markets. Even if customers do not directly compete against one another, the Act may still define them as competitors.
Conclusion
Manufacturers' costs and the demands of large retailers have made product packaging an increasingly challenging affair. And now manufacturers may have another hurdle to add to the pack, depending on how Woodman's continues.
Manufacturers may now find themselves boxed into making packaging decisions that are less than ideal. Those decisions may come down to either altering packaging or potentially violating any one of three provisions of the RPA. To stay current with legal developments, and to better manage risk of litigation, manufacturers would do well to turn to experienced counsel.
About the Authors
Ryan Marth and Stephen Safranski are antitrust counselors and trial attorneys at Robins Kaplan LLP. They represent Food and Beverage companies in complex business disputes and class actions involving antitrust, unfair competition, false advertising, labeling, and the protection of trade secrets. They can be reached at RMarth@RobinsKaplan.com and SSafranski@RobinsKaplan.com.