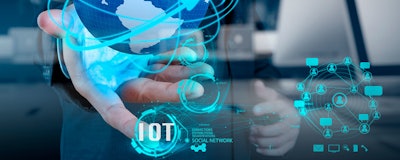 Change Management Required
The Co-Economy
I've talked at numerous points in this book about the evolving and emerging vendor ecosystem. These relationships will have to be cultivated, managed, periodically reviewed and reconsidered, and sustained over the long term. You'll need to do all of this in the face of a rapidly changing economy and business landscape. In some ways, we'll see the emergence of what I'm calling the co-economy — in which companies partner on co-innovation, co-development, co-support, co-marketing, co-training, and more — because the economy will simply be growing too fast and too large for any one company to do it all alone. Besides, you don't want to wait. You'll want your complete IoT solution as quickly as possible, so you and your co-partners will work in parallel, with your partners focusing on their side of the problem while you work on yours.
This, in turn, will result in different organizational structures, both within and outside of our organizational boundaries. We're already starting to see the emergence of symbiotic ecosystems of partners who complement each other and are developing IoT solutions together. These new types of alliances, and new cooperative management approaches, are starting to have significant impact on how individual companies operate, as well as how they're adjusting their internal processes to embrace co-development. For many companies, this is unknown territory. But the sooner your organization embraces this model, the sooner it will be able to benefit from the IoT economy. In parallel to starting your overall IoT journey, you can begin building the ecosystem, one co-development partner and one IoT project at a time. Here are nine rules for both customers and vendors (Figure 7.3) I would recommend in this area:
1. Don't develop custom solutions. The more standardized the solution, the lower the cost to you and the higher the chances that the vendor is committed to it long term. We've all benefited already from open, standards-based technology. Let's stick with it as long as it makes sense.
2. Set the right expectations. Be clear about what you're trying to accomplish, as well as why, when, and how. Understand the "care abouts" of all participants — both individuals and the organizations they represent. Make sure all expectations are compatible, even if they aren't exactly the same.
3. Manage size, scope, and phases. Like any project, you may split the challenge into several chunks, working on some in parallel and some in sequence. It's a proven way to speed progress.
4. Build the right team. Assemble a diverse team with complementary skillsets. If you are co-developing with several organizations, they probably shouldn't be representing directly competing companies. You need the right mix of viewpoints and perspectives, so don't dismiss unusual backgrounds and different personalities. Balance creativity with discipline, and establish guidelines for team communication and dynamics.
5. Pace the team. Brand-new co-development teams may want to start small, using the first project as a way to build a cohesive team whose goal is to pick the low-hanging fruit. After an early success, the team may be ready to tackle a bigger challenge, take more risk. If something doesn't work as hoped, plan to regroup and learn from any failure.
6. Get coaching. Ask for help from people who have real-world experience in running successful co-development initiatives. You don't want to repeat mistakes when you can just as easily learn from those of others.
7. Measure progress. Co-development can sometimes be messy, but that doesn't mean chaos and anarchy. Stay on track by establishing metrics and tracking KPIs.
8. Include users from the start. Never assume you know what the user wants. Bring customers into the development process to give feedback on each iteration, and take that feedback seriously. Nobody wants token feedback.
9. Be nimble. Don't become too attached to ideas that aren't working. Recognize when you need to make course corrections and move on quickly. In short, don't get married to any particular approach or idea until it has proven itself in practice. In the startup world, we call this notion "a pivot." Most startups would pivot from one idea or business problem to another at least once before they find a winning formula. So, in your IoT internal startup eff orts, be prepared to pivot.
Obstacles to Change
Two types of obstacles prevent change: strategic and tactical. Let's briefly look at each.
Strategic Obstacles
The key issue here is a lack of management recognition that a deep and game-changing development is underway. If top managers don't acknowledge that something important is happening, even if they don't understand what it is or its rami cations, then you, dear reader, will have your work cut out to help them see what's going on. (Part of my intent for writing this book was to help you address this them, they won't be ready to provide the necessary support to those of you who have caught on and want to start the strategizing, planning, and piloting. At the end, educating and securing their sponsorship will become a critical success factor for your IoT journey. It is worth investing your time and effort to make sure that you bring at least one of the top managers in your organization along with you, starting with your first small IoT project.
The next step is to figure out what business you'll be in when the IoT economy hits its full stride. We've already discussed the transformation going on in the car manufacturing industry. These manufacturers increasingly think they're in the people and things mobility business, rather than the car manufacturing business. As their thinking shifts, many different decisions become possible. They may, for instance, design their products differently, decide to invest in mobility services, or build and operate fleets of autonomous (self-driving) cars and trucks. Similarly, transportation companies — truckers, railroads, and airlines — might consider the impact of drones.
Thinking like this needs to appear in the management suites of companies in every industry. Once that happens, and the related discussions begin, there are many possibilities to consider:
■ Data competency and opportunity
■ Different understanding of span and control
■ New collaborative development environments
■ New types of partners, new and/or different relationships
■ Customer change management
■ Redefining relationships with existing partners
■ Reviewing end-to-end proprietary supplier approaches
■ Defining looser, nimbler, cheaper, and collaborative relationships
■ Seeking multivendor solutions
■ Building an IoT ecosystem; joining an ecosystem
■ Evaluating global versus local partnerships
■ Preparing to adjust relationships and alliances
Tactical Obstacles
I've tried to point out the tactical obstacles to IoT throughout this book, and I hope they're more familiar to you now. However, you'll have to think about them in terms of the bigger and rapidly evolving IoT picture.
These obstacles include:
■ Security, privacy (refer to Chapter 9 for more information)
■ Integration, support, and migration of legacy infrastructure and systems
■ Data quality, data management
■ Real-time versus batch data, data storage, and perishable data
■ Software development, coding, and agility
■ Development of workforce skills; acquiring, cultivating, and retaining a skilled workforce
■ Change and transitions, the need to continually reinvent ourselves
■ Assembling an appropriate ecosystem around your product or solution
Of course, behind all of these issues — both strategic and tactical — is the payback question. It will come up as soon as you make your first IoT suggestion and again at every point that follows. Refer back to the earlier discussions on payback and ROI, and you're also welcome to use any materials from any of these chapters in your discussions.
Exciting IoT Exercise
How do you think IoT will change your company or industry? More importantly, how would you like IoT to change them? At this point, nothing is set in stone; you can shape IoT at your organization in any way you'd like. So let's start with two provocative questions:
■ How would you like to transform your organization, department, or workgroup?
■ What corporate/operational/process information, controls, process changes, and metrics would you need to make this happen? Now let's envision this as a multistage transition over the course of three to seven years, and then look out further — 10 years. Start by answering a few key questions:
■ What business do you want to be in; how would you define it; what are the main disruptions, and who are the potential entrants and disruptors in this business; with whom will you compete?
■ How might your industry be restructured; who will be the main players; where can you fit in?
■ How do you see your organization participating; which control points can you capture?
■ Which parts of the value chain would you own versus your partners?
■ What will you produce and sell; how will it be packaged and sold?
■ Who will be your customers?
■ Who will be your employees; where will they work?
■ Who could be your partners?
■ How will you make money; how would your partners?
■ How will you go to market?
■ How will you service and support your customers?
■ How much can you automate and/or outsource?
■ How will you manage and govern the resulting organization?
■ What are the key business, technical, and organizational risks you will face?
Get In Front of the Coming Change
Change can be scary. The best way to respond is to imagine repositioning your organization for the most likely future. Of course, none of us has a crystal ball that can predict the future with any certainty. We do, however, have known history that we can use for models of what might happen or what not to do. Here are a few to think about:
■ Horse and buggy versus automobiles — this pervasive and deep social change brought good and bad, and we continue to live with its benefits and consequences.
■ Plain old telephone service (POTS) versus digital telecom today — this change enables a wealth of options globally at low cost and provides models for automation.
■ Trains/ships versus airplanes in long-distance travel — this change brings speed and convenience to transportation as opposed to low cost and a greater time commitment.
■ Paper-based publishing and printing versus electronic, Internet-based publishing and communications — this change has ravaged the paper-based publishing industry, although signs of a hybrid publishing model are slowly evolving and showing some survivability.
■ Consumer travel industry versus the Internet — this change really comes down to a preference for personalized and niche services or low-cost, do-it-yourself capabilities, and convenience.
Even a cursory review of historical changes like the five described above suggests some lines of thinking for IoT strategies. One seemingly winning strategy, for instance, might be a dual hybrid approach. But how that would apply to IoT in the face of its fast and tangible payback isn't yet clear.
Because of this, I suggest you start a discussion around IoT within your organization. If you can't bring the C-suite into the conversation initially, then start with the LOB and department managers who will be directly impacted by IoT and seek their sponsorship. However, as I pointed out already, you should look for C-suite sponsorship sooner than later. That means you should start talking about the IoT future now and initiate planning for it. You might also suggest an initial project, probably around remote operations or any of the other fast payback items we identified. This approach will let you and your core virtual team test the feasibility of IoT in your organization. Then take it from there.
IoT is not fail-proof, as some vendors and consultants might imply. It is quite possible to make mistakes, both minor and grievous, that will cause your IoT project to come up short of expectations.
Excerpted from BUILDING THE INTERNET OF THINGS: Implement New Business Models, Disrupt Competitors, Transform Your Industry by Maciej Kranz. Copyright © 2016, Wiley.