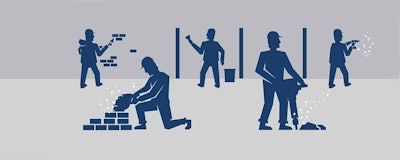 The Occupational Safety and Health Administration (OSHA) estimated that 2.3 million workers are exposed to respirable crystalline silica in their workplace. This not only includes construction workers, but also those working in general industry such as brick manufacturing, foundries and hydraulic fracturing. 
OSHA's final rule reduces the permissible exposure limit (PEL) to 50 micrograms per cubic meter of air over and 8-hour period. The old limit was five times more at 250 micrograms per cubic meter of air. 
Although the enforcement date for meeting stricter respirable silica dust levels has been delayed to Sept. 23, many companies are taking steps to meet the standard by the original start date of June 23. 
"Clearly the danger from silica dust exposure still exists and this later enforcement date offers more time for employers to meet these requirements and keep workers safe," said David Pizzolato, Group Marketing Manager, Robert Bosch Tool Corporation. "Although this is a federal guideline, we're seeing that some parts of the country, including California, continue to work toward the original enforcement date
Bosch as recently released the below infographic to help inform workers of the dangers silica dust exposure poses as well as ways to protect themselves. 
"Bosch is supportive of OSHA's effort to enhance the safety of workers in the construction industry," Pizzolato said. "Bosch remains committed to working with the construction industry to get people trained, as well as providing industry-leading products that meet the growing need for dust solutions."