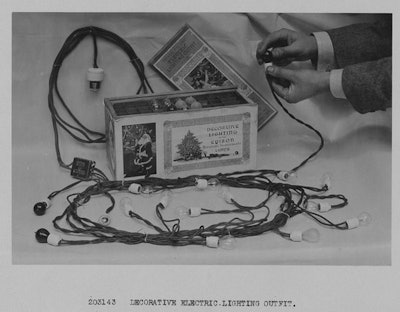 Lighting the modern Christmas tree is an event infused with tradition as well as electricity. But it wasn't always so. Going back centuries, people used wax candles to illuminate their pines, spruces and firs, with many a family keeping an emergency bucket of water at the ready.
The person who snuffed out their warm, flickering glow (and probably prevented plenty of house fires) was Thomas Edison, one of the world's most prolific inventors. Keep him in mind as you struggle to untangle the lights from your tree's brittle, needle-shedding branches in the coming weeks.
The history of Edison's Christmas lights goes back to the winter of 1880, when Edison strung a line of electric lights outside his Menlo Park laboratory in New Jersey, enchanting travelers on passing trains. Just two years later, Edward H. Johnson, his partner in the Edison Illumination Company, hung the first string of 80 red, white and blue electric Christmas lights from a revolving tree in the parlor of his New York City home.
Electric lights ceased being a novelty item and became more mainstream in 1895, when President Grover Cleveland had the White House family Christmas tree decorated with hundreds of multi-colored electric light bulbs, for the first time. However, it wasn't until 1903 that GE began selling pre-assembled kits of Christmas lights to the general public. By then, electricity got cheaper and more ubiquitous and the market for electric lighting took off.
The clincher that settled the matter arrived in 1923, when President Calvin Coolidge lit the first electric National Christmas tree in President's Park in Washington, D.C. He started a tradition, but it wasn't until 1963 that GE began providing lighting for the national tree every year.
Today, the tradition has remained pretty much unchanged, but the technology has evolved. GE now drapes the tree with LED lights, which have "roughly 80 percent energy savings compared to the incandescents," says Jim Riccio, a senior facilities technician at GE's global headquarters in Fairfield, CT.
There's a spruce nearly identical to the National Christmas Tree growing outside the main entrance to GE's Fairfield campus. Every fall, it provides Riccio and his team with the perfect testing ground for the lighting display in Washington.
For the past 15 years, Riccio and his colleagues have strung hundreds of thousands of Christmas lights on this tree. They begin setting up after Columbus Day, working for five to six weeks to hang tens of thousands LED lights, hundreds of feet of red ribbon, and a blizzard of snowflake ornaments on the tree, which is lit the Monday after Thanksgiving. The decorations weigh 1,000 pounds, and arrive from GE Lighting in Cleveland on three wooden packing skids in mid-October.
Just as Edison delighted passersby with his string of lights, crowds in Fairfield today come to see the display. "It's a big community draw," Riccio says. "You get folks out here driving by, taking pictures, even when I'm out working on it. The community really looks forward to it getting done."
Like most Americans, Riccio starts taking down the lights after the New Year, a process that takes about two weeks. The lights are then shipped back to Cleveland, and the team at Fairfield awaits the following October, when a newly designed lighting display will mark another year passing.
For more stories like this, visit GE Reports.