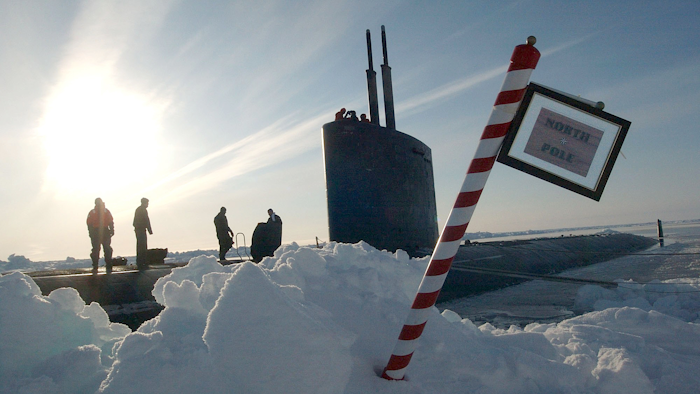 Two Democratic congressmen are asking the Justice Department to investigate ExxonMobil over the petroleum giant's climate change research from the 90s.
The call for action stems from a report in the Los Angeles Times that appeared earlier this month. With help from Inside Climate News and Columbia University's Energy and Environmental Reporting Project, the Times indicated that ExxonMobil officials downplayed the potential impacts of climate change at the same time that company researchers were reaching dramatically different conclusions.
According to the Times report, during a company meeting in 1999, then-CEO Lee Raymond said that climate projections were "based on completely unproven climate models, or, more often, on sheer speculation."
At the beginning of that decade, however, Exxon researchers working in the Canadian Arctic suggested that warming conditions could reduce the costs to explore and develop new oil wells in the Beaufort Sea, while higher sea levels, unpredictable storms and easing permafrost could jeopardize its existing operations in Canada.
Ken Croasdale, who led the research team in 1991 went so far as to declare that "nobody disputes" that greenhouse gas concentrations were increasing due to the burning of fossil fuels. Prior modeling by Exxon scientists also accurately predicted that polar regions would be most impacted by climate change.
ExxonMobil officials told the Times that company researchers included rising sea levels among "a wide range of potential scenarios" that were considered, and the company's top lobbyist this week condemned the article.
In response to the Times report the company recently issued a strongly worded statement characterizing recent allegations about its work as "inaccurate and deliberately misleading."
Vice President of Public and Government Affairs Ken Cohen alleged that "activists deliberately cherry-picked statements" from company officials and said that researchers' work was open, transparent and, at the time, "mirrored global understanding."
"The facts are that we identified the potential risks of climate change and have taken the issue very seriously," Cohen said.
Exxon's press statement also said: "The allegations were contained in reports distributed by Inside Climate News, an anti-oil and gas activist organization, and the Los Angeles Times…ignored evidence provided by the company of continuous and publicly available climate research that refutes their claims.
U.S. Reps. Ted Lieu and Mark DeSaulnier of California, meanwhile, compared ExxonMobil's actions to "cigarette companies that repeatedly denied harm from tobacco" in a letter to Attorney General Loretta Lynch.
The California lawmakers asked the Justice Department to investigate potential violations of laws governing corruption, consumer protection, shareholder protection, public health and truth in advertising.