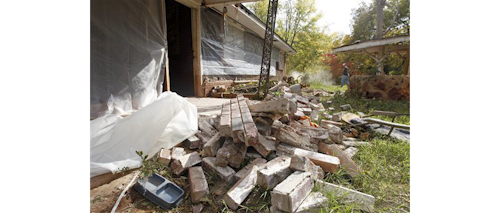 Three more earthquakes shook Oklahoma on Wednesday and Thursday as public officials and the energy industry debate how to best resolve them.
The earthquakes, each of which exceeded 4.0 in magnitude, occurred near the city of Fairview, about two hours northwest of Oklahoma City. They followed a slew of recent earthquakes near Edmond and Stillwater.
The dozen earthquakes near Edmond — including one that caused minor damage — prompted Oklahoma's oil and gas oversight agency to call for sharp reductions in wastewater disposal from nearby drilling operations.
Scientists blame oil and gas drilling wastewater — which is injected deep underground — for lubricating fault lines and transforming Oklahoma into one of the most seismically active areas on earth.
The companies operating wells near Edmond, in suburban Oklahoma City, are cooperating with the directives of the Oklahoma Corporation Commission.
But The New York Times reports that the OCC lacks explicitly authority to regulate seismic issues, which could eventually land the state in court.
SandRidge Energy Inc., which operates near the site of Wednesday's quakes, ignored the OCC's wastewater reduction plans as it deals with financial troubles. The agency and company officials are scheduled to meet late this week in hopes of averting a legal showdown.
Changes to the current oversight system, meanwhile, appear unlikely.
Republican Gov. Mary Fallin's administration argues that it already has appropriate authority over wastewater disposal, while critics believe that Oklahoma's energy industry possesses too much political clout to overcome.
State Representative Cory Williams, a Democrat from Stillwater, told the Times that the GOP-controlled Legislature won't act absent "catastrophic loss of life or property" — something scientists argue is becoming more likely.
"They don't want to touch it," Williams said. "It's a third rail."