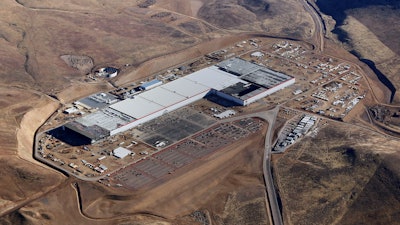 In a blog post to the company site on Wednesday, Tesla announced that its immense Gigafactory had begun mass production of its lithium-ion battery cells.
With the help of partner Panasonic, Tesla custom-developed battery cells designed exclusively for the battery packs for all of the automaker's products — including the upcoming, modestly priced Model 3 that already has around 400,000 pre-orders.
Initially, the Gigafactory will churn out cells for Tesla's stationary energy storage products (the Powerwall 2 and Powerpack 2), while production of the Model 3 cells will begin later this year.
By 2018, Tesla expects the Gigafactory will produce "35 GWh per year of lithium-ion battery cells, nearly as much as the rest of the entire world's battery production combined."
But, despite beginning production, the massive Gigfactory itself remains unfinished. Currently, the building already totals 4.9 million square feet of operational space, and it's only 30 percent complete.
In its post, Tesla wrote:
"The Gigafactory is being built in phases so that Tesla, Panasonic, and other partners can begin manufacturing immediately inside the finished sections and continue to expand thereafter. Our phased approach also allows us to learn and continuously improve our construction and operational techniques as we continue to drive down the cost of energy storage . . . Once complete, we expect the Gigafactory to be the biggest building in the world."
Tesla also noted perhaps the largest advantage of the Gigafactory, which is that its ability to mass produce will significantly reduce the price of batteries.
Specifically, the automaker stated that "our cost of battery cells will significantly decline due to increasing automation and process design to enhance yield, lowered capital investment per Wh of production, the simple optimization of locating most manufacturing processes under one roof, and economies of scale."
"By bringing down the cost of batteries, we can make our products available to more and more people, allowing us to make the biggest possible impact on transitioning the world to sustainable energy."
Ultimately, Tesla and Panasonic expect to directly emply around 6,500 workers once the Gigafactory reaches peak production; indirectly, an additional 20,000 to 30,000 jobs will be created in Nevada and the surrounding region.