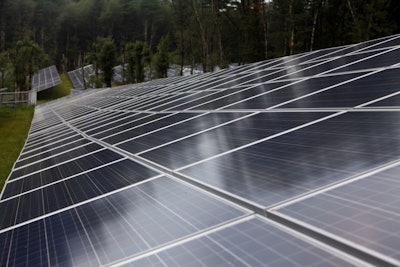 Modern solar panels are capable of some fantastic things but still have difficulties producing satisfactory amounts of energy in cloud-prone areas. Luckily for those living in these damp regions, researchers at two universities in China have developed a solar cell that draws energy from both sunshine and rain.
According to a report by Digital Trends, the solar cell developed by scientists at Ocean University of China and Yunnan Normal University pulls energy from sunshine just as traditional solar cells do. However, this newly developed technology doesn't stop working when sinister-looking clouds show up — the technology will embrace any droplet of rain Mother Nature can toss at it.
When clouds begin to form, the special solar cell converts from its sunshine-happy mode to a system that leverages the capacities of graphene to convert energy from water.
When rain touches the graphene-based system, it is separated into positive and negative ions. The positive ions are typically salt-oriented ions that collect on solar cell's surface. The positive ions then intermingle with the graphene's negative electrons, resulting in a positive- and negative-layer system which performs as a sort of mock capacitor.
The variance between the positive and negative layers is so great that it creates voltage and current.
The scientists behind this all-weather solar cell plan to move their breakthrough past the conceptual stage they're currently in, with hopes that the technology can eventually be produced for widespread use. If all goes as planned, you might see these solar cells in your next trip to a rain-stricken city like Seattle.